Jeunesse Named Company Of The Year And Collects 18 Awards
August 16, 2017
By Team Business For Home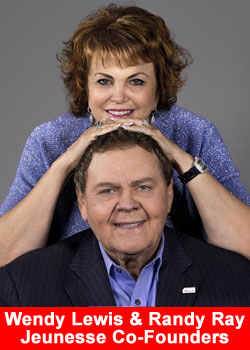 Winners have been announced in four highly respected corporate awards programs, resulting in 18 distinct awards for global youth enhancement company Jeunesse, its executive management team, newest product line and several company-produced videos. Jeunesse is a Triple A classified opportunity by Business For Home.
Jeunesse was selected as Company of the Year in the SVUS Golden Bridge Awards with a Gold award, while the executive management team — headed by Founders Randy Ray (CEO) and Wendy Lewis (COO) and Chief Visionary Officer Scott Lewis — was awarded the Silver award for Management Team of the Year.
The trio were also award-winners in the Entrepreneur Of The Year® 2017 Florida program, in which they were honored for demonstrating excellence and extraordinary success in the areas of innovation, financial performance and personal commitment to their business and community.
NV, the latest product line launched in the Jeunesse Youth Enhancement System, was selected as a subcategory winner in the Direct Selling Association Ethos Awards for the coveted Product Innovation Award, which recognizes "game-changing" new products introduced in the direct selling industry.
NV is an exclusive line of primer, foundation and bronzer that work together to help create the enviable results of a professional airbrushed look in seconds.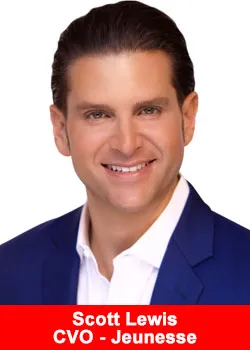 Finally, Jeunesse garnered 14 awards in the 2017 Videographer Awards, including 5 Awards of Excellence (the competition's highest honor), 6 Awards of Distinction, and 3 Honorable Mention Awards for several videos highlighting the company, its executives, products and nonprofit foundation, Jeunesse Kids.
In response to these latest company accolades, Scott Lewis commented,
"We are honored to have received recognition in these prestigious competitions and remain committed to developing innovative products

and effective marketing tools that support our Distributors and their efforts to share our products while helping to build the Jeunesse brand around the globe."
About Jeunesse
Jeunesse is a global direct selling company with a mission to positively impact the world by helping people look and feel young, while empowering them to unleash their potential. The company's exclusive skin care and nutritional products form a comprehensive Youth Enhancement System.
With multilingual customer service, back office support and a global enrollment system, Jeunesse utilizes a cutting-edge platform to share innovative products, training and support through 32 fully operational offices to markets in over 140 countries. Learn more at jeunesseglobal.com.