Top Earner Matt Morrow – Wine Goes Network Marketing
August 1, 2017
By Team Business For Home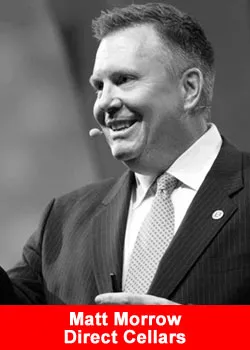 I met Matt Morrow – a multi million dollar network marketing top earner – at a party in his home in Las Vegas, USA.
There were successful networkers there from a variety of companies, but delightfully it seemed much more like a reunion of great friends than a pitch fest of any kind. Anyone who knows Matt, knows he is all about having fun and making sure that everyone in his presence is doing the same.
There are few people who can say that their full time mlm career spans four decades of life. Matt has been a top earner in quite a few companies in his 28 years full time…he has done it in his 20's, 30's, 40's, and now he is now killing it again in his 50's.
He has a very unique perspective on this industry. Matt is currently one of the top earners in Direct Cellars, affectionately referred to as "The Wine Deal". Few people make network marketing look as effortless as Matt does. I asked him to share some of his thoughts on this industry that he loves so much even after almost 30 years…and he agreed to. Enjoy!
Matt Morrow:
Whenever someone says something to me derogatory about network marketing, I feel terrible that they will probably never know the joy and freedom that comes with a successful career as a network marketer. I remember my early mentor, Harvey Conner (who is still a top field earner and he was already a legend when I started in 1989) used to say "Believers are Closers". Few people on earth have a bigger belief in this wonderful industry than I do and it is my privilege to share some thoughts with you on this topic of network marketing.
It is difficult to say something that has not already been said. I suggest you read all of the books and go to all of the trainings and keep learning until this business and your company become a part of you. The mental and personal development part of our business is the trickier part. The "what to do" is super simple when you break it down. I believe it was Jordan Adler who said in his book "Beach Money"…which is a favorite of mine that I have recommended to thousands… "all we have to do to be successful in this business is get a few customers and a couple of business builders and repeat that a bunch of times" (I'm paraphrasing, but it was something like that)
The simple act of getting a "few and a couple" and duplicating sounds easy, but it is strange how difficult this is for so many people. Let's talk about some things that have always worked for me.
One of my primary mantras is "Make it fun" Put yourself in the position of any person you are talking to who you choose to discuss your business. Would you want to do what you are doing? Does it appear that what you are doing is fun? If you enjoy what you do, you will never work another day in your life. Have fun with meeting people and be clear that should the opportunity present itself you can offer someone tremendous value. Don't be needy. Be present and connect with people and make it fun.
Here is a tip that 99 percent of people can benefit from…the cliche I heard in 1989 when I got started was: "Our creator gave us 2 ears and 1 mouth and they should be used proportionately. Ask yourself this…who are the most annoying people in the world? TALKERS…there is nothing worse than being trapped with a talker who is just regurgitating the same boring stories they have been trying to get people to listen to for god knows how long. I'm sure you know what I mean…If not, I have terrible news; you are probably a talker. LOL People LOVE to be heard. Listen to people and they will tell you everything you need to know to help them. Listeners are great enrollers. Truly listen to people and don't just wait for your turn to talk!
Be authentic. Muhammed Ali was almost universally adored . Why? In my professional opinion, it was because he was authentic. He was authentically confident, authentically compassionate, authentically courageous, authentically hysterically funny, etc. We humans LOVE and respond to authenticity. I want to leave you with an enrolling technique that I credit Ali with. Ali famously coined the phrase "Rope a Dope". This was a tactic whereby Ali would go up against the ropes in a defensive posture and allow his opponent to relentless hit on him until they got tired…Ali was in amazing shape, a highly conditioned athlete who could take a blow or 50.
Once his opponent grew tired from delivering the endless barrage of blows that barely phased Ali, he would strike back with a burst of energy he had saved and knock out his tired opponent. In conversations with prospects, we can deploy a similar tactic, but the end result isn't a knockout. It is simply a golden opportunity for them to grow tired of talking and allow some new information in that would most likely solve many of their biggest life's questions such as: How can I find a way to make a great income doing something that I love?"
Or how can I meet amazing people and form life long friendships with hundreds of super cool people all over the world and get paid for it? It just makes me smile. It's so simple when you do it right. Practice listening to people. Let them talk. They will tell you everything you need to know about them. When they finally hand you the ball, be ready to tell a great story authentically from the heart that has that persons best interests in mind. In my opinion, that is how it is done.
I moved to Las Vegas 5 years ago because I think it is a very fun and social town, and it seems everyone comes through Vegas at least once a year in this industry. If you are ever in Vegas, I would love to invite you to a wine Tasting party…but only if you are looking for something where you can have fun, hang out wth your friends, enjoy a nice bit of conversation, and get paid for doing so. Direct Cellars is the easiest company to invite to in history! Everyone loves wine. Our retention is incredible. People love getting wine sent to their door for free.
They never get mad that their autoship has arrived. It's more like a great gift landed on your doorstep. Especially when it is free when you simply refer three. Direct Cellars will be the largest wine club in the world. If you drink wine, you should drink wine from a fellow network marketing company. I believe that people in our industry can be retail customers of our friendly competitors.
I buy everything from toothpaste to water systems and a ton of stuff in between. If you are going to drink wine, you might as well get paid for it…or at least get it for free. It is that "no brainer" offer that has had me enroll over 150 people personally with almost zero "No's". There have been so many firsts with this company. The company even just came out with a "Jet program"! I have qualified for cars before, but like everything else with this company they have taken it to new heights with a jet program!
Please connect with me on Facebook at Facebook.com/themattmorrow. I do my best to share tips that help people no matter what company they are in.
Matt can be reached mostly on Facebook, because he is older than a lot of people who prefer instagram or snapchat.  He believes Facebook is better for creating an intelligent discussion.
You can like him at Facebook.com/themattmorrow  He is however also on instagram, but not as frequently @themattmorrow, but the best way to reach him is to text him…just like everyone else.
About Direct Cellars
Founded in 2014 with offices in Chicago, Fort Lauderdale and Seattle, Direct Cellars began as a small internet wine club. Due to our unique marketing concept, we found that we were growing very rapidly! We didn't choose the traditional advertising route such as, Radio, TV, Internet Marketing etc., we used the "word of mouth" avenue – marketing to our friends and family. Bottom line, Direct Cellars was founded and built by friends and family!
Since our inception, Direct Cellars has become one of the premier wine clubs in the country. Over the last few years we have continued to create and maintain relationships that consist of the best expertise with wine lovers a-like. Our in-house team of wine tasters have been tasting and selecting wines from all over the world for the last 15 years. We only select wines from world class wine producers which are then shipped right to your door!
As we continue to further our success and look to our long-term growth, Direct Cellars has now evolved into a full-blown network marketing company. Now you can earn a residual income while sharing and enjoying our wines from around the globe. For more information plese visit www.directcellars.com