DeVos Family Seeks Deregulation Of Amway So It Can Beat Herbalife
September 19, 2017
By Team Business For Home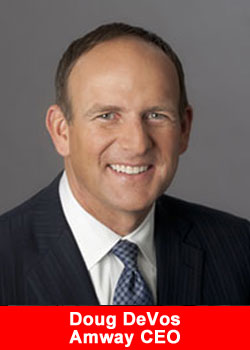 According to an article in the New York Post:
Betsy DeVos' well-connected family wants Amway to get a leg up on Herbalife — and it's pushing Congress to make it happen.
The US education secretary's Michigan-based family, which is the controlling shareholder of privately held Amway, is backing a little-noticed amendment to the US House spending bill that would limit regulatory oversight of so-called multilevel marketers, or MLMs.
Specifically, the rider would curb the ability of the Federal Trade Commission to investigate whether MLMs like Amway are pyramid schemes — potentially protecting Amway from costly regulations that have recently ensnared its archrival Herbalife.
"Of course, Amway is supportive" of the amendment,
said Joseph Mariano, president of the Direct Selling Association, which represents MLMs and counts Amway as its biggest member.
Meanwhile, Herbalife Senior Vice President Ed Rosen asked several US Congressmen in a July letter to tack added consumer protections to the bill — the kind that Herbalife will be forced to implement whether Amway's bill passes or not.
Under a 2016 settlement with the FTC, Herbalife agreed to fully restructure its US business operations, and distinguish customers, who sign up to purchase products at a discount, from distributors, who resell the products to earn commissions.
"[The] compensation we pay is driven by validated, profitable retail sales,"
Rosen wrote to lawmakers.
Indeed, the rules are designed, among other things, to prevent MLMs from saddling distributors with more product — mostly nutritional supplements in the case of Amway and Herbalife — than they can sell at a profit — a classic scenario in pyramid selling.
"Herbalife expressed opposition and concern about this bill," Mariano admitted. "I think given their experience and given the fact they are working under an order influences its view." Mariano said.
The US Senate is set to vote soon on its 2018 spending bill, and in conference with the House will likely decide whether to keep the Amway-backed "Anti-Pyramid" amendment, sources said.
The amendment was introduced by US Rep. John Moolenaar (R-Mich.), who received $8,000 from Amway-related entities during the 2016 election cycle, public records show.
Amway, with an estimated $9 billion in yearly sales, "is still completely controlled by the DeVos family," an industry source said, noting that Betsy DeVos' husband Dick DeVos is a former Amway president and her brother-in-law, Doug DeVos, is Amway's current president.
In financial disclosures submitted for her confirmation as education secretary, Betsy DeVos disclosed the family made more than $10 million in Amway-related dividends.
Source: New York Post