doTERRA Hosts 30,000 Attendees At Global Convention
September 7, 2017
By Team Business For Home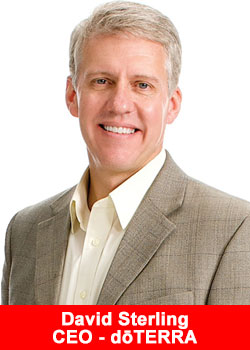 doTERRA, the world's leading global essential oils company, and a Triple A Classified opportunity by Business For Home – will host the sold out 2017 doTERRA Global Convention on September 6-9 in Salt Lake City.
Over 30,500 essential oil enthusiasts from 68 countries will gather at the Salt Palace Convention Center for the annual event — the largest single-company convention to date in Utah.
The four-day event sold out in 72 hours and is expected to boost Utah's local economy by nearly $29 million. doTERRA anticipates an additional 10,000 participants will watch the event via livestreaming.
The convention will promote doTERRA's mission statement and values, educate attendees on doTERRA products, launch new products and company directives, celebrate doTERRA's Wellness Advocates and generate ongoing support of current initiatives, including the doTERRA Healing Hands Foundation, Co-Impact Sourcing and more. The convention also will announce new initiatives regarding medical clinics and the state of the art Aromatic Plant Research Center.
Keynote speaker Dan Nevins, an Iraq War veteran and highly decorated soldier, will share his inspirational message of leadership and overcoming adversity. In addition to insightful content and educational opportunities, doTERRA will host a street party featuring a performance by pop singer-songwriter Rachel Platten.
"This year's convention theme, 'you,' speaks to what I admire most about the people of doTERRA: our love of others and commitment to share and give back.
This annual gathering of our community is a great way to celebrate our collective achievements, learn about the future of essential oils, and get inspired together," said David Stirling, founding executive, chairman and CEO at doTERRA.
"We are honored to host Utah's largest-ever single-company convention and introduce so many people from around the world to our beautiful state."
As part of its Healing Hands initiatives, doTERRA will seek to become the GUINNESS WORLD RECORDS™ title holder for the Most personal hygiene kits assembled in one hour. The doTERRA Healing Hands Foundation™, in partnership with Days for Girls, will aim to assemble a minimum of 5,000 kits that will provide sustainable feminine hygiene solutions to girls and women all around the world.
Attendees are estimated to donate over 2,000 hours of service during the convention by creating kit components throughout the week and assembling the kits in the presence of a GUINNESS WORLD RECORDS adjudicator.
About doTERRA
doTERRA is the world leader in sourcing, testing, manufacturing, and distributing CPTG® essential oils through a global network of more than 5 million customers.
doTERRA, the Latin derivative meaning "gift of the Earth," sets the standard for essential oils by providing to its customers the most tested and most trusted oils and having developed the expertise and commitment required to derive these unique oils directly from the best sources in the world.
doTERRA Co-Impact Sourcing® provides local growers and distillers fair compensation for their efforts, creating stronger local economies and a healthier, stable supply chain. In addition to a premium line of single-plant extracts and proprietary essential oil blends, the company offers oil-infused personal care and spa products, dietary supplements and healthy living products for the home. For more information, visit www.doterra.com.