Korey And Renae Johnson Achieve Blue Diamond Rank At Valentus
September 6, 2017
By Team Business For Home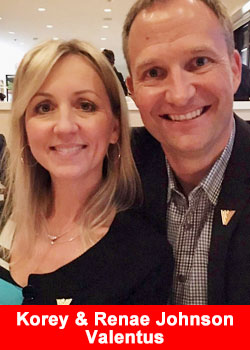 Florida couple Korey and Renae Johnson love attending their children's basketballgames, playing an active role in their church and traveling — and they do all of it while maintaining a thriving Valentus business.
Korey's Valentus journey started out as a friendship with Dave Jordan long before Dave was the CEO of Valentus. Korey and Dave built a few large network marketing teams together, and even when they pursued separate endeavors, they kept in touch. When Dave started Valentus, Korey was all in. He knew Dave would be a CEO with no ego, which is often hard to find.
Before network marketing, Korey was an electrician. When he discovered direct sales in the 1980s, he fell in love with residual income and became a student of the industry. He has since developed a system for success and follows it with exactness.
"It's all about making your daily list of contacts," Korey says.
"Your head doesn't hit the pillow at night until you check all those names off your list."
He is also a proponent of the 80/20 rule — 80 percent your time should be spent prospecting and 20 percent of your time should be helping your teammates.
Korey teaches his team that in order to reach the big goals, like quitting your day job or making $10,000 a month, you have to start small.
"It's about breaking it down into daily tasks and doing those things every day no matter what," he says.
Korey's motivation to work hard is simple — freedom.  "For our family, it's not about the money," he says. "It's about freedom. Financial stability gives us freedom to make choices." And as much as Korey enjoys that freedom, he also knows how painful it can be for those who don't have it.
"If you've ever struggled with money, it weighs heavily on your mind and causes so much stress," he says.  Being able to help people step out of that nightmare brings Korey joy and he doesn't discriminate when adding new Members to his team. Whether it is someone who makes $8 an hour at a restaurant or a top salesperson, Korey knows that desire and drive are what truly matter.
"I teach people to do things today that others won't do, so that tomorrow they can do things that others can't do," he says.
Korey's introduction to Network Marketing was the day he attended what he thought was a job interview with John Haremza.  When he got to the "interview" he discovered it was a meeting to talk about water filters.  "I immediately started looking for the quietest way out ….. and then …… John talked about residual income and I became interested".
Hard work, especially at the beginning, is key. Korey compares it to an airplane. It takes the most fuel and force to get the plane off the ground, but once it reaches the sky, momentum propels it forward. And Korey couldn't be more thrilled to help others surge momentum toward their dreams.
About Valentus
In Latin, the word "Valentus" means "prevail," defined as proving to be superior in strength, power, and influence. Recognizing that, we couldn't have picked a more fitting name for a company that strives to be the example in an industry that deserves a leader to follow.
Since day one, our focus, our passion, and our commitment have been to create a company, a product line, and an opportunity built on a foundation of integrity.
From creating significant levels of income, to building strong networks, healthy long-lasting relationships, making new friends, participating in activities you never even knew existed, having the time to do the things you love with the people you love to be with, VALENTUS can help you PREVAIL in ALL of your goals. For more information please visit www.valentus.com