LifeVantage Leadership Academy Focused On Growth And Biohacking
September 22, 2017
By Team Business For Home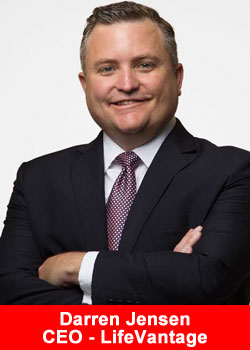 LifeVantage Corporation (Nasdaq:LFVN) held its second annual Canada Leadership Academy on September 9, 2017 in Vancouver, BC.
LifeVantage is a Triple A classified opportunity by Business For Home.  The company is deeply rooted in science.  Their flagship product, Protandim, the Nrf2 Synergizer, has been validated by peer-reviewed studies conducted in the laboratories of respected universities such as The Ohio State University, LSU and the University of Colorado Denver.
More than 450 people attended the highly anticipated event that featured keynote speakers, including LifeVantage President and CEO, Darren Jensen, Senior VP of Research and Development, Nathalie Chevreau, and Senior VP of Field Development, Dave Fleming.
"For the second straight year, our Canadian distributors and customers demonstrated why there has never been a better time to be part of this company,"
says Jensen.
"Their energy and enthusiasm was incredible, and we're already excited to see what next year brings."
The event's theme focused on LifeVantage's new market position as a world leader in biohacking. Speakers also announced new company-wide technology innovations.
"This was an incredible opportunity to talk to our distributors face-to-face," says Fleming.
"We're in the middle of an exciting transformation, and Canada is going to play a big part in our future success."
After the event, attendees were given the opportunity to see LifeVantage's jersey-front sponsor, Real Salt Lake, take on the Vancouver Whitecaps.
About LifeVantage
LifeVantage Corporation is a science-based health, wellness and anti-aging company dedicated to helping people transform themselves internally and externally at a cellular level.
Their scientifically-validated product lines include Protandim® Nrf2 and NRF1 Synergizers, TrueScience® Anti-Aging Skin Care Regimen, Petandim®, AXIO® Smart Energy and the PhysIQ(TM) Smart Weight Management System.
LifeVantage (Nasdaq:LFVN) was founded in 2003 and is headquartered in Salt Lake City, Utah. For more information, visit www.lifevantage.com.