BK Boreyko Officially Launches Bode Pro And Opens Japan and Hong Kong
October 23, 2017
By Team Business For Home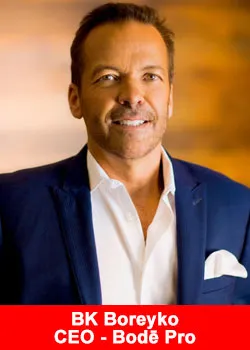 Bode Pro transitioned from soft-launch to launch status the last week of October, 2017, commemorating it with a gathering of early adopters in Mesa, Arizona.
"It's been an eye-opening six months," says Bode Pro founder and CEO, BK Boreyko.
"Through this soft-launch period, we've been able to assess our complete offering and make the necessary adjustments to position our company for the stability, longevity and financial reward industry leaders require when considering a new enterprise.
I am as confident in the future of Bode Pro, as I've ever been about anything," adds Boreyko.
Based on his track record, that's saying something.
Boreyko is no stranger to the world of network marketing.  He's been in and around the industry since he was just 9 years old.  "My parents were Amway Executive Diamonds in the '70's and the #1 distributors in Matol Botanical in the early '90's.
They taught me everything I know about this industry." Crediting his parents' mentorship, Boreyko, together with his sisters Karen and Lauren have given birth to two network marketing companies that created approximately $2.5B in total sales.
Boreyko feels the 'third times a charm' as he begins he quest to become the first industry owner to create 3 networking companies that accomplish more than $1 billion total sales each.
Bode Pro is Boreyko's third and final installment in his 22-year storied career as a CEO.  The company has been designed to specifically attract customers and the business opportunity is structured to reward Influencers that build customer organizations. 
"Our Influencers are emboldened by the fact we're focused on customer acquisition for those thinking long term, that's a big deal. Our technology, social approach and systems, combined with our product offering creates the ideal environment for growth," says Boreyko.
In parallel with the launch of the company, Bode Pro celebrated yet another launch; a product launch.  Bode Pro TEN, a clinically studied and patent pending mitochondrial support supplement, was officially released on October 20 and those at the Mesa event were the first to get it.
"It's rare to find a new product story in the wellness industry," says Boreyko, "but we truly feel this story is in the very early stages of what will ultimately become a multi-billion category in wellness and we're seated at the table first.
That coveted 'first-mover advantage' and 'category creator' is always something you search your whole career for."  He adds, "When the doctor conducting your studies calls to tell you your product far exceeded what began as high expectations, you know you've got something special."
Bode Pro TEN adds a scientifically-validated, cutting-edge, anti-aging dimension to the company's already robust product line, consisting of Bode Strong, immune support formula, and Happy, its proprietary nootropic (cognitive enhancer) formula.  "With Strong, Happy and now TEN, and the field leadership we're attracting, we can go anywhere," declares Boreyko.
And, speaking of going places, Bode Pro just announced its opening of the Japan and Hong Kong markets. "I'm blessed to have some of the strongest industry leaders in all my years, driving these markets for us," says Boreyko. Japan and Hong Kong represent the very beginning of what Bode Pro forecasts as a meaningful and aggressive international expansion plan.
"We're brand new, but we're not new at this." adds Boreyko. "We're excited and grateful to have many countries eager to participate, but we have an obligation to our existing markets first. People won't remember how fast we expand; they'll remember how well we did it."
When asked to identify the biggest difference between Bode Pro and the multitude of other companies coexisting within the same space, BK Boreyko responds confidently, "Bode Pro is a safe place. I don't understand companies who actively seek to unfairly suspend and terminate the very distributors who helped put them on the map. I hear the stories and I just scratch my head. It's just not right," adds Boreyko.
"Network marketing is my home and network marketers are my family.  We just get each other," he continues.  "I grew up as a distributor, I've driven the miles, logged the air miles and conducted thousands of meetings.  I know this industry and the sacrifice it takes to make it work.  Its people are a huge part of my life and I will work every single day to earn their respect and trust."
About Bode Pro
Bode Pro is a fresh, new company, with the background and experience of a solid industry giant, seeking to revolutionize with technology and progressive thinking, the decades old way network marketing has been conducted.
Using a product-centric approach to gathering customers, Bode Pro markets ultra-premium wellness products, containing innovative formulas, via retail, Internet, influencer and network marketing channels, creating a one-of-a-kind versatile business opportunity for the entrepreneurial-minded. For more information, visit bodepro.com