Cellements Launches In Europe
October 20, 2017
By Team Business For Home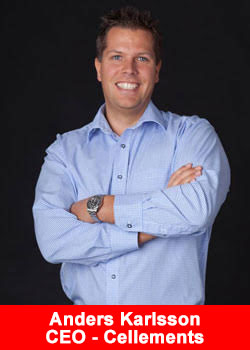 Cellements is a privately held Estonian Direct Sales company founded in 2017 by its CEO Anders Karlsson and partners.
With its global headquarters strategically located in the city of Tallinn, it is well positioned within the European Union to provide first class services to the entire region. Additional plans are underway to open its first international branch office in the United States by April 2018.
Cellements has assembled a very seasoned management team comprised of individuals with decades of experience both inside the corporate world together with those who have been successful in the field. One of Cellements key team members is that of Global Vice President, Ben Thibaudeau.
He will be responsible for overseeing Cellement's global operations and its aggressive expansion strategy. He brings over 17 years of hands on experience working with some of the biggest public and private companies in the industry.
Additionally, Cellements recently acquired a very prominent Swedish Research and Development company by the name of Hygiene of Sweden. This biotech company's sole focus is to develop both environmentally and user friendly products for the average consumer.
Heading up Cellements' R&D department is Swedish bioscientist Philip Wilhelmsson. Philip has been recognized on numerous occasions for his innovative approach to developing consumer products in the green biotech space, and has spent much of his career assisting large companies manage their water treatment systems at various nuclear facilities.
Cellements' initial product offering, branded as "BioPocketTM", will include the following:
Antibacterial Screen & Hand Spray
No Mosquito
Sun Care SPF 25
Conveniently packaged in a credit card sized pocket spray, each product gives you up to 225 sprays for the most active, on-the-go consumer. All three product formulas have gone through a series of rigorous clinical tests allowing them to be sold and distributed globally. Their convenient size allows for easy shipping anywhere in the world, and at a very affordable price.
The alcohol-free Antibacterial Screen & Hand Spray has been clinically tested and proven to kill up to 99.999% of germs. The Swedish Royal family and Swedish National Athletic Team have been using this product formula for years, and select pharmacies across Europe have shown interest in distributing this as well.
Recent studies show that our cell phones carry 10 times more bacteria than what's found on our toilet seat.
About Cellements
In preparation for its launch, Cellements has developed a strong business model that takes these impressive products from the pharmacies and vaccination clinics to the average consumer through its Direct Selling Partners.
As a Customer focused company, Cellements' goal is to offer economical products that can be used by millions for under €0.25 per day. Considering the costs companies incur with employees and sick leave, Cellments is perfectly positioned to help alleviate some of those concerns as a solution for companies to help minimize the spread of germs among its employees. For more information please visit Cellements