LifeVantage Holds Annual European Leadership Academy in the Netherlands
October 14, 2017
By Team Business For Home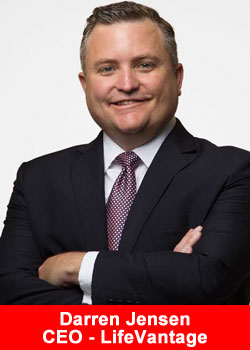 LifeVantage Corporation (Nasdaq:LFVN) a Triple A classified opportunity by Business For Home – held its annual European Leadership Academy at the Claus Event Center on October 8, 2017. Many leaders from Great Britain, the Netherlands and Germany attended the two-day event, which focused on Europe's expanding role in the company's future outlook.
"Our leadership is our lifeblood," said LifeVantage President and CEO, Darren Jensen.
"This event gave us a chance to get together and talk about where we're headed as a company, and the role that our European market will play as we move forward."
According to Senior Vice President of International, Courtland Pearson, the goal of the Academy was to give the company's leadership insights into LifeVantage's new mission and vision with a particular focus on the European market's ability to play a pivotal role in both.
"Great things are happening in our European market," said Dr. Peter Verdegem, Vice President International, European Markets.
"Our leaders there have embraced our mission and vision, and it's really showing."
In addition to Pearson's remarks, participants also heard from Executive Masters Marc Shinsato and Carrie Dickie as well as several members of LifeVantage's leadership team, including CEO Darren Jensen and CMO Ryan Goodwin.
Goodwin, who outlined LifeVantage's new technology initiative, emphasized an increased need to innovate.
"We're finding new ways to make our products more accessible while making business management simpler for our thousands of distributors across the world,"
said Goodwin. "The faster our European distributors can embrace the new technology we're introducing, the more progress we'll be able to make as a company."
About LifeVantage Corporation
LifeVantage Corporation is a science-based health, wellness and anti-aging company dedicated to helping people transform themselves internally and externally at a cellular level. Their scientifically-validated product lines include Protandim® Nrf2 and NRF1 Synergizers, TrueScience® Anti-Aging Skin Care Regimen, Petandim®, AXIO® Smart Energy and the PhysIQ™Smart Weight Management System.
LifeVantage (Nasdaq:LFVN) was founded in 2003 and is headquartered in Salt Lake City, Utah. For more information, visit www.lifevantage.com.