Total Life Changes Puts Fun Back Into Networking With Fun Fridays
October 5, 2017
By Nicole Dunkley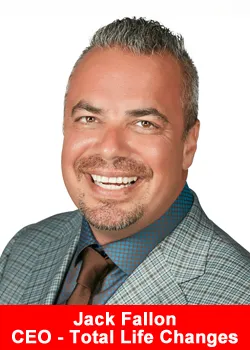 Total Life Changes (TLC) uses Facebook Live to inject Fun into Fridays. Every week at 2 PM eastern, members of TLC 's Executive Staff "Go Live" no matter where there are. "We have broadcasted our Facebook live feeds all over the world; from numerous hotels and airports to corporate events. No matter what, the show must go on," says TLC's Chief Marketing Officer, Scott Bania.
That is exactly what this live broadcast has become for TLC; it has taken on the identity of an often-unscripted show that has attracted tens of thousands to the Facebook News Feed with analytic data representing organic reaches exceeding 50,000 Facebook users.
On average, there are over 1,500 comments in a 20-minute period and views that reach about 15,000 in less than 24 hours. This concept of utilizing Facebook Live as a tool to effectively communicate with TLC customers and IBOs was developed by TLC's Chief Operating Officer, John Licari:
"Consistency is king. We have to develop stronger relationships with our Independent Business Owners (IBOs) in the field and our customers.
What I noticed was our IBOs using live broadcasts to share information about our products and our business opportunity. For a long time, everyone was using Periscope to accomplish this and then Facebook rolled out the very same feature in early 2016 and it didn't take long many of our IBOs in the U.S. to transition over to Facebook Live.
So, I started to have these conversations with TLC's founder, Jack Fallon and our CMO, Scott Bania about using this technology to reach our Facebook fans and more importantly Facebook users that may never have heard of TLC; so, it needed to fill this purpose of being able to communicate in real time with our affiliates and attract new people to learn more about TLC; what better way than to allow our guests to watch us live, raw and uncut."
That first conversation led to some additional conversations and Jack Fallon gave this project the green light and on Friday, January 20, 2017 the first edition of Fun Fridays @TLCHQ was born and it has been filmed live consistently every Friday. TLC's Chief Executive Officer, Scott Bania extended the Fun Fridays into Central and South America.
"Our managers and employees in Central and South America have incredible personalities and enough energy to power a large city. Our General Manager of Latin America, Alexandra Serna and I coordinated a schedule and began hosting Fun Fridays in each of our offices in South and Central America.
Our managers are so imaginative and resourceful. The games and incentives they create are amazing. We are so proud of them,"
says Scott Bania.
These live broadcasts are used to communicate new tools, software updates and upcoming events. More importantly, TLC's executive staff always recognize its top retailers, top enrollers, best weight loss testimony and new ranks achieved for the prior week. And they throw in some fun incentives and deals that have become very popular.
"Each week our executive team decides on at least two promotions that are part of the live feed. We ask our affiliates questions or have them type a particular statement right in the live feed. And we always have a deal of the day. Typically, this is a much larger promotion and it will last for a predetermined amount of time or a particular number of items sold. Our customer service agents follow up with the winners and place these special orders promptly," adds Licari.
Communication continues to evolve with innovate technologies and mobile Apps that transcends what anyone may have anticipated before the year 2020. Real Time apps allow instantaneous communication globally, leaving time zones as the only real barrier as an excuse for not being able to communicate with anyone anywhere in the world with a cell tower or Internet access.
This increase in viable forms of communication is changing the way we communicate with business partners, customers, friends and even our families. Total Life Changes has taken a very proactive step toward meeting their affiliates in a medium they can relate to.
Tune into Facebook every Friday at 2 PM Eastern. Search TLCHQ for the English Fun Friday and TLCHQEspanol for the live Spanish broadcast. "We're changing the world, once cup of tea at a time," says John Licari each time they sign off and thank their live guests.
About Total Life Changes
Total Life Changes offers a diverse product portfolio of health, wellness and beauty products. Founder and "Tea" Executive Officer Jack Fallon created TLC over 16 years ago with a single product: NutraBurst®.
Since that time, TLC has continued to develop the Iaso® brand of products to include a diverse and attractive product portfolio matched with a hybrid binary compensation plan that allows IBOs of TLC to be rewarded quickly for introducing new customers to our products and business opportunity. Find out why so many are saying, "It really is different over here."