Wealth Generators Takes Over Hodo Global
October 28, 2017
By Team Business For Home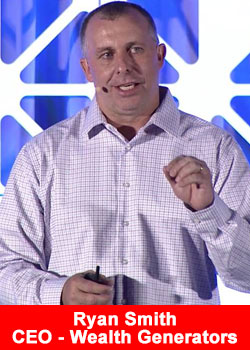 Investview Corporation ( OTCQB : INVU ) through its wholly owned subsidiary Wealth Generators is pleased to announce that Wealth Generators and Hodo Global have combined their collective distributors and certain contractual licenses to increase sales worldwide.
Wealth Generators and Hodo have entered a contribution and exchange agreement whereby Hodo distributors and contracts will be transferred to Wealth Generators in exchange for equity ownership of Investview that will be issued to Hodo according to a product sales performance grid.
Wealth Generators has the option to add travel services to their product lineup along with exclusive usage of the RYZE.ai algorithm currently marketed by Wealth Generators as the Multiplier. The company plans to adopt the RYZE.ai product name and the combined forces of our distributors look forward to exclusive distribution for the algorithm in the network marketing sector.
"This is a powerful alliance for both Wealth Generators and the Hodo team. Our companies share a common objective and now we can move forward as one, streamlined and ready to increase our worldwide expansion," 
said Ryan Smith, Investview CEO.
The agreement will ensure that ownership is acquired and issued according to performance which will reward Hodo with great upside potential and provide Wealth Generators increased sales, expanded distribution network along with additional products. It is an agreement that provides value to the shareholders for the cost associated with the agreement.
It is important to note that the company may need to increase the number of authorized shares to meet its obligations under this agreement assuming that Hodo achieves the anticipated milestones.
"The Co-Founders of HODO Global are excited to join forces with Wealth Generators. We are the only two companies on the planet marketing the financial technology, RYZE.Ai. It only makes sense to come together and share one message in the marketplace concerning this disruptive technology.
In addition, gaining access to WG's interactive financial products such as FxOnE and the exclusive marketing of Deductr Pro, will have a huge impact on our goal of increasing fiscal literacy around the globe.
Finally, the reality of being associated with a publicly traded company positioned ahead of the wave of cryptocurrency going mainstream creates unlimited upside for both our WG distributors and Investview (INVU) shareholders.
In conclusion, this synergy will enable our 2500 marketing partners in over 10 countries and 6 continents to reach our goal of helping 1 million families worldwide, potentially earn an extra $500 per month. Our ultimate goal will be to create in excess of 1000 WG distributors each earning over $1 million per year," 
said John Hammack, President of Hodo Mania, LLC.
Investview's COO Annette Raynor added,
"We are extremely excited to enter this agreement and welcome the HODO team with open arms. Their excitement, knowledge and experience are a powerful addition to our operations and I believe together we can accomplish much more than we ever imagined as separate entities."
The Hodo network is in the process of joining the Wealth Generators distribution network while Wealth Generators is working on the launch of additional products and services as a result of the agreement.
About Wealth Generators
Wealth Generators provides financial technology, education, and research to individuals to enable them to "Find, Grow, and Keep" their money. We are best described as a financial fitness company providing our customers the tools and information that can improve their financial situation.
Wealth Generators products are distributed through a direct sales model. Our products are offered to individuals on a monthly subscription basis. Wealth Generators is classified as a publisher of financial research and information and exempt from securities registration. This is an exemption provided in the U.S. Securities Investment Advisers Act of 1940.
Wealth Generators is not a brokerage firm or Registered Investment Advisor. We do not execute trades or take possession of clients' brokerage accounts. Our customers may cancel their subscription at any time and execute trades at their own discretion