WorldVentures Ranked No. 24 On Healthiest 100 Workplaces In America
October 2, 2017
By Team Business For Home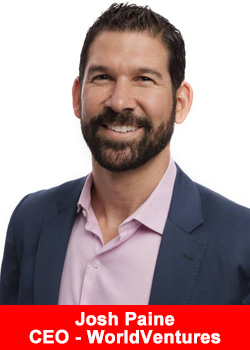 WorldVentures™ Holdings LLC, parent company of the travel industry's direct-sales leader — WorldVentures Marketing — is proud to announce its ranking of No. 24 of the Heathiest 100 Workplaces in America.
This award was presented for the company's employee wellness initiatives and corporate wellness programs.
Rankings were based on entries from more than 2,000 companies nationwide representing about one-third of the working population. This is a significant milestone as WorldVentures is only three years into its wellness journey. Other highly-ranked programs have been in place for many more years.
The 100 Healthiest Workplaces in America is a national ranking by Healthiest Employers® that is determined by a rigorous methodology using Springbuk® analytics software.
It's weighted across local and national assessments that score population health outcomes and measure six key values: vision, culture and engagement, learning, expertise, metrics and technology. Companies of all sizes with health and wellness programs are encouraged to apply.
"The health and well-being of our team members is of the utmost importance," said Kathy McBrayer, WorldVentures Chief People Officer.
"Wellness is an integral part of our culture; as we support and care for ourselves, we are better able to do the same for others. We are honored to be recognized for our health and wellness initiatives."
WorldVentures offers wellness initiatives such as Go365™ (a personalized digital program that helps employees make healthier decisions), flu shots, on-site mobile mammograms, wellness exams, nutrition lunch-and-learn classes, 5K race/walk opportunities and the Whole30® eating plan.
About WorldVentures Holdings
Headquartered in Plano, Texas, WorldVentures Holdings, LLC is the privately held parent holding company for a diverse family of companies offering lifestyle brands, including DreamTrips™, WorldVentures, and WorldVentures Foundation™. The company's mission is to create more fun, freedom and fulfillment in people's lives through great life experiences, financial opportunity, personal development and contribution.
The company's products and services offer a spectrum of innovative solutions to empower generations and support the potential and promise of our global community. For more information, please visit www.worldventures.com, www.dreamtrips.com and www.worldventuresfoundation.org.