Devray and Cassandra Soojay Achieve $1 Million Ring Earner At WorldVentures
November 18, 2017
By Team Business For Home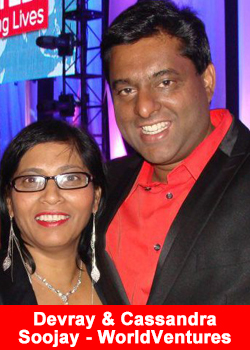 Devray and Cassandra Soojay from South Africa joined WorldVentures in 2009 in Johnny Wimbrey's team.
WorldVentures is a Triple A classified opportunity by Business For Home. Triple A is the top classification.
Johnny Wimbrey stated:
1 of my very 1st leaders in WorldVentures. They joined me back in 2009! This couple has conquered every bit of adversity you can imagine, yet still they rise.
Crystal & I are so vey proud and honored to call you family, friends, & global business partners. Well done.
Where most would have given up, you both conquer & defeat obstacles that at times appeared to be giants. Wow… so impressive. Blessings & Congratulations.
Top leader Matt Morris stated:
Soojay and Cassandra are the definition of persistence and determination… 9 years ago when they joined us in WorldVentures, they suffered a huge financial loss but they never wavered from pursuing their financial freedom.
In a country where the average income is only $400 per month, they never accepted an excuses and have inspired tens of thousands of people to pursue their dreams as well.
Soojay & Cassandra, thank you for over 10 years of friendship, thank you for being an example of strength & leadership, and thank you for being a beacon of hope and inspiration for so many others.
About WorldVentures Holdings, LLC
Headquartered in Plano, Texas, WorldVentures Holdings, LLC is the privately held parent holding company for a diverse family of companies offering lifestyle brands, including DreamTrips, WorldVentures, and WorldVentures Foundation. The company's mission is to create more fun, freedom and fulfillment in people's lives through great life experiences, financial opportunity, personal development and contribution.
The company's products and services offer a spectrum of innovative solutions to empower generations and support the potential and promise of our global community.
For more information, please visit www.worldventures.com, www.dreamtrips.com, www.worldventuresfoundation.org.