LifeVantage Legacy Continues To Support Hurricane-Affected Areas
November 22, 2017
By Team Business For Home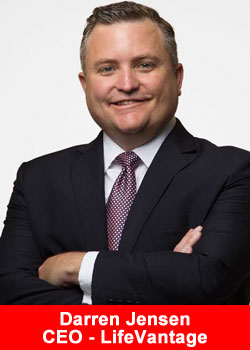 Following Hurricanes Harvey, Irma, and Maria, LifeVantage Corporation (Nasdaq:LFVN) focused its philanthropic efforts toward delivering critical supplies and money to distributors and residents in the affected areas.
LifeVanathe is a Triple A classified opportunity by Business For Home, the top rank.
"LifeVantage Legacy has a long history of helping people when and where they need it most,"
said Michelle Oborn, Senior VP, Human Resources.
"As soon as the Hurricanes started making landfall, we knew we had to help.  The first step was identifying some of the greatest needs on the ground. We wanted to send the right kind of help, and give people the supplies that they desperately needed."
In the hours following Hurricane Harvey, LifeVantage corporate headquarters converted LifeVantage Legacy's donation page into a hurricane fund-raising vehicle, and hundreds of distributors sprang into action, raising over 20 thousand dollars—a sum that headquarters matched.
"It was amazing to see our distributors rally to support each other, as well as complete strangers who were affected by the hurricanes,"
said LifeVantage President and CEO Darren Jensen.
"There's a lot of good in this world, and we built LifeVantage Legacy to bring some of that good front and center."
To date, the funds raised by LifeVantage Legacy have provided living expenses and basic critical needs including solar power, clean water, medical and hygiene supplies, and food.
And because thousands of Puerto Ricans remain without power or access to clean water, LifeVantage has announced that it will continue providing supplies and financial support.
About LifeVantage Corporation
LifeVantage Corporation is a science-based health, wellness and anti-aging company dedicated to helping people transform themselves internally and externally at a cellular level.
Their scientifically-validated product lines include Protandim® Nrf2 and NRF1 Synergizers, TrueScience® Anti-Aging Skin Care Regimen, Petandim®, AXIO® Smart Energy and the PhysIQ™Smart Weight Management System. LifeVantage (Nasdaq:LFVN) was founded in 2003 and is headquartered in Salt Lake City, Utah.
For more information, visit www.lifevantage.com.