Plexus Worldwide Named Arizona's Fastest Growing Company
November 6, 2017
By Team Business For Home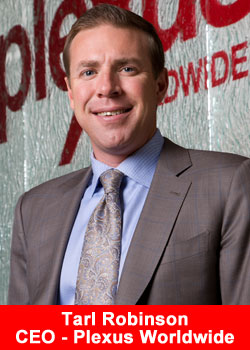 Plexus Worldwide® (Plexus), a leading direct-selling health and wellness company focused on health and happiness, was recognized by The Phoenix Business Journal as Arizona's fastest growing privately-owned company at its annual Arizona Corporate Excellence (ACE) Awards, held November 2 in Scottsdale, Arizona.
This is the third year in a row Plexus Worldwide has placed in the top five fastest growing companies, and is the second time to be named Arizona's fastest growing company (2015).
The company was also recognized as the eleventh largest privately held business in the state, moving up from number 13 on last year's list.
"We are proud to be recognized as the fastest growing privately owned business, and one of the largest privately owned businesses overall in Arizona by The Phoenix Business Journal," said Tarl Robinson, CEO of Plexus Worldwide. 
"Having not yet reached our 10th anniversary, we are still a relatively new company and are growing as the interest in our products continues to grow. Earning these two ACE awards confirms Plexus remains on the right track by delivering health and happiness."
Phenomenal sales and growth are nothing new to Plexus Worldwide, leading many in the network marketing industry to take notice.
Just six years ago, Plexus had revenues of less than $1 million a year and in 2016 Plexus surpassed $532 million.
"While we're excited about these awards, we're even more excited about how our entire corporate team and our Ambassadors (independent sales representatives) have come together to make this a reality," said Alec Clark President of Plexus Worldwide.
"Our Ambassadors are on the front lines generating consumer interest and helping to drive this growth."
The ACE Awards gathers Arizona's biggest and best private businesses to celebrate and honor their successes. The awards recognize private companies based on their overall revenue and their revenue growth.
About Plexus Worldwide
Plexus Worldwide LLC offers health and wellness products that enable people to improve their lives and well-being.
With more than 615,000 independent business owners ("Ambassadors") worldwide, Plexus is among the world's 40 largest direct sales companies and has often been featured on the Inc. 5000 list of fastest-growing companies.
The combination of Plexus products and opportunities help individuals to meet their health-wellness and financial goals.
For more information about us visit www.plexusworldwide.com.