CES Las Vegas Welcomes Wor(l)d Global Network
January 6, 2018
By Team Business For Home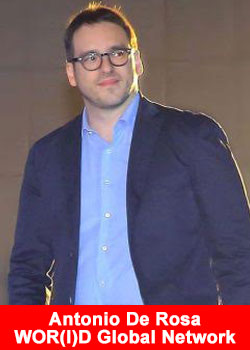 CES Las Vegas is the world's gathering place for all those who thrive on the business of consumer technologies.
It has served as the proving ground for innovators and breakthrough technologies for 50 years '" the global stage where next-generation innovations are introduced to the marketplace.
Owned and produced by the Consumer Technology Association (CTA), it attracts the world's business leaders and pioneering thinkers.
Its the first time that a Network Marketing company attend this amazing show.
Antonio de Rosa, CDO Wor(l)d Global Network commented:
"We are so excited and hope to see you at our booth to assist in previewing the news about WOR(l)D Technology Corporation (WCOR).

All of our staff is focused on designing and setting up our booth, and, thanks to the event organization, we have just upgraded our space.

Between January 9 and 12, we will located in Booth 45831 '" Sands Expo, Level 2, Hall A-D at the center of Sport Zone In an extraordinary exposition space, WCOR will allow you to see and touch the news of its awesome products.
From remote monitoring products, to wearables to diagnostic solutions, the health care industry is embracing new tools and technologies to enhance the patient experience.
The success of fitness and activity trackers is blazing a trail to a much larger opportunity in health care through medical-grade devices worn by consumers to monitor and/or treat chronic disease or other conditions.
The next few years are critical to advancing the market for wearables in health care as industry, health insurance companies, the medical community and consumers (patients) work together to find the right fit.
New B2B research from CTA highlights the market potential for wearables in U.S. health care as well as the possible pitfalls in its report, Wearable Health and Fitness Technology in U.S. Medical Care (January 2017).
In addition to generating a new competitive market with projected sales in the billions of dollars, medical-grade wearables could save billions of dollars in health care costs.
Not surprisingly, the linchpin for integrating wearables in health care is consumer adoption '" and use compliance '" of the technology. Rapid consumer uptake of fitness trackers over the past few years is a positive sign despite abandonment rates as high as 30 percent (Gartner, 2016).
However, a stronger prediction of patient acceptance is consumers increasing desire for convenience in all things, fueled by the Internet of Things (IoT).