Isagenix Appoints Jonas Hedberg As Europe General Manager
January 29, 2018
By Team Business For Home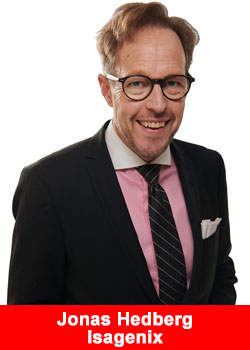 Isagenix International, a global health and wellness company providing nutrition and lifestyle solutions, has named Jonas Hedberg General Manager, Europe.
Hedberg will lead the companys efforts in the European market. Isagenix entered the market in 2017 and has operations in the U.K, Ireland, and the Netherlands.
Hedberg brings extensive experience to Isagenix. For nearly 20 years, he has led established and startup businesses in the direct selling industry, including numerous top 50 companies.
Most recently, he served as General Manager, Europe at USANA. Under his leadership, the company grew steadily through the creation of a new generation of leaders in the field and expanded into four new European markets.
Were honored to have Jonas join Isagenix,' said Isagenix Co-Founder and Chairman Jim Coover.
We plan to expand our presence in Europe in the next two years, and Jonas direct selling expertise and strong leadership will greatly benefit our company and the Associates who share our transformational solutions with others.'
Hedberg, a Swedish national who is fluent in Swedish, English, German, and French, will manage the European market from the Isagenix London office.
Im pleased to be part of Isagenix as it builds its operations in Europe,'
Hedberg said.
This is a terrific market for the companys impressive, high-quality nutritional products, which also offer an opportunity for people to build their own businesses. I look forward to working with the Isagenix management team to expand the companys reach across Europe and make a lasting impact.'
To learn more about Isagenix in the European market, visit our website or Facebook page.
About Isagenix International
Established in 2002, Isagenix provides systems for weight loss, energy, performance, healthy aging, and wealth creation. With nearly 600,000 customers worldwide and more than 100 life-changing products, packs, and systems globally, the company is committed to producing Solutions to Transform Livesâ"¢.
Since its inception in 2002, Isagenix has generated nearly $6 billion in cumulative global sales through an independent network of associates in the U.S., Canada, Puerto Rico, Hong Kong, Australia, New Zealand, Taiwan, Mexico, Singapore, Malaysia, Colombia, Indonesia, the United Kingdom, Ireland, and the Netherlands. Isagenix is a privately owned company with headquarters in Gilbert, Arizona.
For more information, visit Isagenix.com.