Ken Brailsford Resumes Role As Zija International CEO
January 27, 2018
By Team Business For Home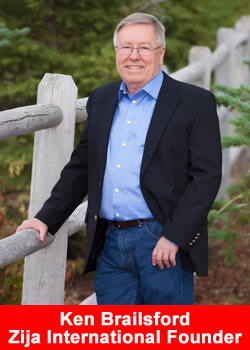 Zija International is thrilled to announce the companys Founder, Ken Brailsford, will be resuming his position as Chief Executive Officer.
After taking time to grow several of his other businesses, he is eager to work alongside Zija President, Ryan Palmer, to achieve goals set in place by Ryan and the executive team.
Im looking forward to being in a more hands-on role for a company that I feel so passionately about,'
Ken said.
Because of Ryans guidance, Zija has been able to maintain consistent and sustainable growth and Im excited to see where we can take the company working alongside one another.'
Long before Zija became a household name, Ken had already successfully started and run two multi-million-dollar health and nutrition network marketing companies. After learning of Moringa oleifera in 2005, Ken came out of retirement and founded Zija International'"one of the first companies to bring Moringa to market.
Kens love for the network marketing industry stems from the desire to help others obtain a life theyve always dreamed of'"what Zija has coined, a Life Unlimited. His companies have supplied hundreds of thousands of individuals with income, products, and relationships that wouldnt have been possible otherwise.
There isnt anyone more qualified than Ken Brailsford to materialize our vision of becoming a true legacy company,'
Ryan said.
We have laid out an aggressive growth strategy, we have validated, world-class products, and we have prepared the proper infrastructure to support our Zija Members in sharing their businesses across the globe'"Zijas future is brighter and clearer than ever before.'
In just over a decade, Zija has grown to operate in countries worldwide, has been recognized on fastest-growing and top-revenue lists by Inc. Magazine, and has recently aligned with prior direct selling companies XANGO, Qivana, and EmzaGold.
After nearly 50 years of experience in the industry, I recognize that Zija is entering an enormous growth phase that I want to be a part of,'
Ken said.
Weve cast a clear vision that will lead Zija to succeed for decades to come.'
About Zija International
Zija International, a privately held and privately-funded business founded by Kenneth E. Brailsford and led by President and CEO, Ryan Palmer, develops natural health, wellness, and beauty products. The company operates in more than 50 countries worldwide, pioneering the #NaturalHealthRevolution to help individuals achieve Life Unlimited.
Zija has seen consistent growth every year since it was founded over a decade and has received several awards, including and being named the Fastest-Growing Company in Utah' by Utah Business Magazine.
It has also been recognized on fastest-growing and top-revenue lists by Inc. Magazine, Direct Selling News and Utah Valley Magazine, and has received industry-specific MarComm, American Business (Stevies), and Davey Awards.