LifeVantage Launches Vitality Stack Packets
January 24, 2018
By Team Business For Home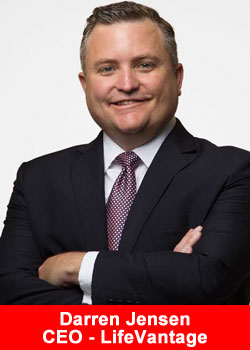 LifeVantage Corporation (Nasdaq:LFVN) has introduced Vitality Stackâ"¢ Packets, a companion product to the companys successful recent launch of Vitality Stackâ"¢.
Vice President of Branding, Jina Anson, announced that Vitality Stack Packets bring convenience and portability to our nutritional supplements scientifically engineered to help customers biohack the aging code.*
Our bodies are extremely complex, but previously we have only been offered a one-size-fits-all solution. Today customers want more personalized control over their health,' said Anson.
LifeVantage is using nutrigenomics to help people take back control, and thats why we designed the Vitality Stack.
Its a nutrigenomic starter kit that can help anyone build the foundation for a healthy life and start their biohacking journey.* And now they can do it while theyre on the go.'
Vitality Stack Packets reinforce LifeVantages position as a worldwide leader in nutrigenomic science to build customizable health and wellness products for its customers and distributors all over the world. Vitality Stack Packets feature the same four supplements offered in the companys Vitality Stack, but in portable, single-day serving sizes that are perfect for on-the-go customers.
With LifeVantage Vitality Stack Packets, our customers can fight the biggest aging factors that take a toll on their bodies, no matter where they are,'
said LifeVantage President and CEO Darren Jensen.
You receive Protandim® Nrf2 Synergizerâ"¢ thats proven to fight oxidative stress, Protandim® NRF1 Synergizerâ"¢ to boost mitochondrial production, PhysIQâ"¢ ProBio that supports a healthy microbiome, and Omega+ that provides the fatty acids you need to support brain health. These packets are pocket-sized health that deliver a big punch.'*
Vitality Stack Packets will be available to order online in the US on January 20th, 2018.
*These statements have not been evaluated by the Food and Drug Administration. These products are not intended to diagnose, treat, cure, or prevent any disease.
About LifeVantage Corporation
LifeVantage Corporation (Nasdaq:LFVN) is a pioneer in Nutrigenomics – a new science dedicated to cracking the human aging code.
The company is engaged in the identification, research, development and distribution of advanced nutraceutical dietary supplements and skin care products, including Protandim®, a scientifically-validated dietary supplement;
TrueScience®, a line of Nrf2 infused skin care products; Petandimâ"¢ for Dogs, a companion pet supplement formulated to combat oxidative stress in dogs; Axio® Smart Energy Drink mixes; PhysIQâ"¢, a Smart Weight Management System; and Omega+, a 3-in-1 fish oil supplement. LifeVantage was founded in 2003 and is headquartered in Salt Lake City, Utah.
For more information, visit www.lifevantage.com.