QNET Clarifies Misconceptions and Reaffirms Commitment To Georgia
January 30, 2018
By Team Business For Home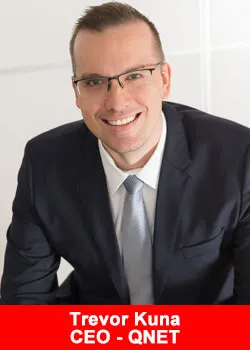 Leading Asian direct selling company QNET held a press conference in Tbilisi to answer questions about the companys business, products and plans for Georgia.
QNET was represented by its CEO Trevor Kuna, the Regional General Manager for Turkey and RCIS Region Cem Geyik, and QNETs official local representative Mr.Yase Zautashvili. The press conference took place in the Museum Boutique Hotel.
This year marks QNETs 20th anniversary in the US$183 billion global direct selling industry. In the Russia and CIS region this industry has generated more than US $2 billion in 2016 according to a report by the World Federation of Direct Sales Association (WFDSA).
The direct selling industry is over 100 years old in many developed, advanced economies and is seen as a lucrative form of self-employment and entrepreneurship due to the low startup costs and the strong support system provided by genuine direct selling companies. More than 100 million people are involved in this industry in both part-time and full-time capacity.
QNET is headquartered in Hong Kong and has a presence in more than 25 countries through branch offices and agency partnerships. QNET has been present in the CIS region since 2010 and has approximately 130,000 people pursuing their entrepreneurial dreams through its business opportunity in various CIS countries.
In Georgia, QNET has been present since 2014 and nearly 20,000 people are registered in our database having purchased our products. Many of them are actively involved in our direct selling business.
QNET offers a wide range of health, wellness and lifestyle products and services through its proprietary e-commerce platform, aimed at helping people live better lives. In Georgia, some of QNETs most popular products include vacation packages, luxury Swiss Watches, and e-learning courses.
This year, QNET plans to focus on promoting its nutrition and wellness products, home care products such as air and water purifiers and products from its personal care line in Georgia.
QNET has also partnered with three local resorts in Tbilisi through our travel and holidays division and has been helping to promote tourism to Georgia by offering vacation packages to the country. This year, QNET expects to add another resort in Batumi further strengthening our commitment to promoting Georgia as a desirable tourism destination in the region.
QNETs management team has arrived in Georgia to address recent concerns raised by certain sections of the media about its business and to present a clear picture of the company and its activities.
QNET firmly believes that there is nothing more empowering to individuals than the financial freedom that a career in the direct selling industry provides, and we believe Georgian people, with their ambition and strong sense of entrepreneurship will appreciate the products we sell and the business opportunity we offer.' '"said Trevor Kuna, CEO of QNET.
We are aware that this is still a very young business in Georgia and hence not very well understood.

That is why some unscrupulous operators take advantage of this lack of awareness and promote financial pyramid schemes under the guise of direct selling.'
QNet has also been a victim of these unethical practices and this has created some misperceptions about the company. I take this opportunity to clarify that QNET is not a get-rich-quick scheme.
In addition to great products, we offer a business opportunity to those who are interested in becoming entrepreneurs and sell our products to others and earn a commission on those sales,' Kuna further explained.
We are proud to have helped many young Georgians achieve their dream of building a successful business and transform their lives. As our business is growing, our focus is now on improving our training programs and advocating for professional and ethical practices in conducting the business.
We do not encourage anyone misrepresenting our business and will take strict action against them upon receiving such complaints. – added Cem Geyik '" Regional General Manager of RCIS and Turkey.
The local agency office headed by Mr. Yase Zautashvili provides QNets customers and distributors in Georgia with consultations about the company, product pick-ups, after-sales service, and customer support.
About QNET:
QNET, a prominent Asian direct selling company, provides a wide range of life enhancing and luxury products that are offered through its proprietary e-commerce platform to customers and distributors in more than 100 countries. The company also has over 25 offices and agencies worldwide, and more than 50 stockists, apart from localised operations or franchisees in a number of countries.
Established in Hong Kong in 1998, QNET is a member of the Direct Selling Associations in Malaysia, Singapore, the Philippines, and Indonesia. QNET is also a member of the Hong Kong Health Food Association and the Health Supplements Industry Association of Singapore, among others.
QNET is active in sports sponsorships around the world, including football, badminton and more, due to the companys strong belief that the drive, passion, and teamwork of sports mirror those of QNET. QNET recently signed a new and exciting partnership with Manchester City Football Club (MCFC), as its official direct selling partner for three years. For more information, please visit the QNET website at www.qnet.net