Rick Jerrells Achieves Blue Diamond Rank At Valentus
January 18, 2018
By Team Business For Home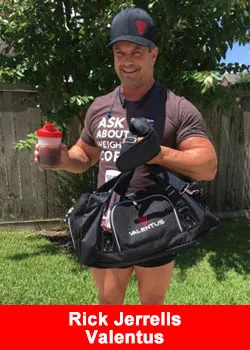 In 2005, Rick Jerrells was a top earner in another company and he was building relationships that would shape his future in Valentus.
Rick, Valentus CEO Dave Jordan and Valentus Blue Diamond Korey Johnson were three of the top earners in the company. Rick was impressed with the work ethic of both Dave and Korey, so when Dave asked Rick to join Valentus in 2014, Rick immediately jumped on board.
I knew Dave had a lot of good connections and he was a great marketer, so I was excited to work with him,' Rick says. But beyond his experience with Dave, Ricks experience in network marketing had laid a foundation for what he knew to look for in a direct sales company. His No. 1 requirement was simplicity.
The business needs to be simple when you are running a home-based business,' Rick says.
The sampling program showcases the simplicity. Instead of asking someone to spend money on a product, people can sample the product and experience the benefits for themselves as well as taste the deliciousness. The ease of the business makes it unique and much easier than a pill-or-potion type of company,' he says.
Rick builds his Valentus business through a DMO (Daily Method of Operation). He sets a goal of how many new people to contact in a day or in a week. Then he lets the products speak for themselves.  When people sample the products, they get results,' he says.
Its a valid business without spending a ton of money. Its duplicatable.'
But its not only the products that make Valentus powerful. The products paired with the compensation plan make Valentus stand out in the industry.  The compensation is simple to understand and pays out in so many different ways,' Rick says. The ease at which you can see your money and where its coming from is important.'
Building a network comes easier now than it did back when Rick first met Dave in1999. Theres Facebook; theres LinkedIn '" there are so many more ways to expose a business,' he says. The world is smaller because of the internet.' The simplicity and ease of the company make it easy for anyone to join. There are so many people making money in our company that never made money in networking before,' Rick says. This truly is a winning opportunity and those dont come along very often.'
Ricks personal favorite product is Prevail Energy which fuels his athleticism. Its the best thermogenics in the marketplace,' he says.
Was Valentus your first company?
I had been in 3 previous Nutritional companies and very successful but waited 3 years for Dave Jordan, CEO, to begin his new company Valentus.
What made you join?
I had worked with John Haremza, Korey Johnson and Dave Jordan, CEO in a previous company and I knew that as a team we could make Valentus a success.
What do you like about network marketing?
I like helping people grow their bank accounts and to grow personally as a person.
What do you like about Valentus?
The product line addresses the shortcomings of the metabolism and provides the body with what it needs to correct itself.  Energy is my favorite!
What challenges have you faced?
There are always up and down situations in any company but the main thing to achieve success is commitment, discipline and loyalty.  You can never become success or maintain credibility jumping around to different companies.  With 29+ years in network marketing Rick knows the ropes.
About Valentus
In Latin, the word Valentus' means prevail,' defined as proving to be superior in strength, power, and influence. Recognizing that, we couldnt have picked a more fitting name for a company that strives to be the example in an industry that deserves a leader to follow.
Since day one, our focus, our passion, and our commitment have been to create a company, a product line, and an opportunity built on a foundation of integrity.
From creating significant levels of income, to building strong networks, healthy long-lasting relationships, making new friends, participating in activities you never even knew existed, having the time to do the things you love with the people you love to be with, VALENTUS can help you PREVAIL in ALL of your goals. For more information please visit www.valentus.com