The Time Is Right To Seek New Opportunities
January 3, 2018
By Team Business For Home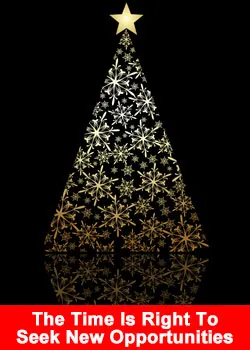 Whether you plan to watch the ball drop in Times Square this New Years Eve or be in bed by 10 p.m., one thing is certain: a new year is coming, and with it comes a chance for change.
Its a time to reflect on what works best for you and reset your course for the coming year. Research shows that 41 percent of Americans usually make New Years resolutions, and after spending the holidays indulging in food and festivities, its not surprising that the most popular resolutions include weight loss, improved fitness and healthier eating. 1
As the holiday bills start coming in, its also common for people to focus on getting their finances into better order. The Federal Reserve Board discovered in a survey of working Americans that nearly half of U.S. adults dont have enough cash on hand to pay for a US$400 emergency.2
If thats a concern for you, consider joining the 44 million Americans who have found ways to make money in addition to their main source of income. Common options include waiting tables, working retail, becoming a rideshare driver and direct selling.
Direct selling, also called direct-to-consumer sales, has been around for over 160 years, and companies like WorldVentures, Avon, Tupperware and Amway have been offering new business opportunities to independent sales representatives since they opened. The direct sales business is still booming, with a record 20.5 million people involved in the U.S. alone in 2016. The estimated direct retail sales of US$35.54 billion in 2016 was the second-highest in direct-selling history.3
Is working in direct sales right for you? Benefits of working in the industry can include:
Flexibility '" You determine your schedule, and you choose to work as many '" or few '" hours as you want. If you have a knack for direct selling, you could ultimately make it your main source of income.
Personal Growth and Development '" Take advantage of the tools and training offered by your direct selling company to help you build your business.
Companionship '" Connect with fellow sales representatives and prospective customers, any of which can lead to lasting relationships.
Passion for travel and financial freedom prompted Wayne Nugent, Founder and Chief Visionary Officer of WorldVentures, to launch his direct sales business in 2005.
Weve been changing the way people take vacations for more than a decade, all while helping our Independent Representatives discover their potential and experience more in life,' says Nugent.

We have a world-class product and we embrace a culture of success.'
WorldVentures, the leading direct seller of travel and leisure club memberships, is just one of many opportunities waiting for you. Whether you decide to go into direct sales, housesitting or part-time bartending, the possibilities for supplemental income are limited only by your imagination.
1"New Years Resolution Statistics." Statistic Brain. N.p., 04 Jan. 2017. Web.
2Backman, Maurie. "What Is a Side Hustle?" The Motley Fool. The Motley Fool, 18 Sept. 2017. Web.
3Industry Fact Sheets.' Direct Selling Association, www.dsa.org/benefits/research/factsheets.