Total Life Changes 50% Commissions The Difference-Maker For New National Director Phillip Squires
January 30, 2018
By Nicole Dunkley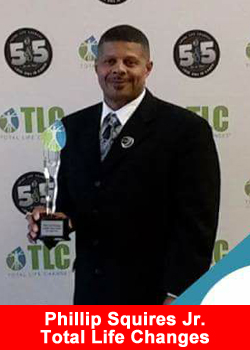 I joined TLC on July 5, 2014,' Phillip Squires recalls. He doesnt need to consult his records to make sure he has the date right. I still remember like it was yesterday.'
According to Squires, its the day he found his true calling, one that would take him all the way to the National Director rank with multi-level marketing company Total Life Changes.
My sponsor was Phillip Birchfield,' Squires says. The two Phillips had worked together at a previous company and hit it off thanks to a shared interest in health and entrepreneurship. Phillip [Birchfield] called and invited me to his house because he had something to show me. He sat me in front of his computer and showed a presentation.
Like anyone with a television, I know how many people are desperate to lose weight, which is why so many MLM businesses focus on health products. I have confidence in my ability to sell, and thought to myself, if its as good as product as they say it is, Ill have no problem.
But what I was really impressed with was the compensation plan. In our last company, the largest residual percentage was 8%. When I saw that TLC paid 50% commissions, I knew that this would be an awesome opportunity.'
Squires admits that, despite this enthusiasm, he dragged his feet a little in getting started, neglecting his TLC business until September. Frankly, I dont recommend my initial approach,' he admits a little sheepishly. I own a landscaping company and was in the middle of my sun-up to sun-down season. Once I started working on my TLC business, there was so much excitement. As more and more of my friends started joining, I knew that I was sitting on a gold mine.'
Having spent much of his youth on military bases, and serving for three years himself as an adult, Squires had the discipline to make it through some adversity in the MLM business. I've been involved with many MLM companies.
Even though I knew that MLMs could be a life changing opportunity, for some reason I never experienced a breakthrough. That all changed with TLC! This has been the ONLY company where I have achieved a little success.' Always humble, he explains the qualifier: I say a little success because there is still so much work and learning to do.'
Like many successful TLC independent business operators (IBOs), Squires has a personal investment in health products. I was an overweight kid. I know how it feels to be ridiculed about your weight. I know how it feels to be self-conscious. This is a feeling that no one should have to experience.'
After he began to eat more healthily and hit the gym in high school, the routine became a big part of Squires identity. Today, he values the opportunity TLC provides to help those with weight problems develop a healthier sense of self. He also testifies that using the products himself has helped him keep his own struggles with size under control.
As a newly-minted National Director, Squires offers the following advice to new IBOs. The Regional and International events are life changing! You will learn from some of the best in the industry. Make sure that you are present at the next one, and introduce yourself. I look forward to meeting you.'
About Total Life Changes
Total Life Changes offers a diverse product portfolio of health, wellness and beauty products. President and Tea Executive Officer Jack Fallon created TLC over 16 years ago with a single product: NutraBurst®.
Since that time, TLC has continued to develop the Iaso® brand of products to include a diverse and attractive product portfolio matched with a hybrid binary compensation plan that allows IBOs of TLC to be rewarded quickly for introducing new customers to our products and business opportunity.
Find out why so many are saying, It really is different over here.