doTERRA Announces Co-Impact Sourcing Initiatives In Kenya
February 7, 2018
By Team Business For Home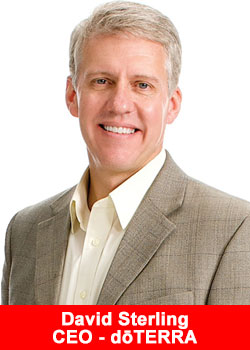 doTERRA, the world's leading global essential oils company, today announced its social impact and community building initiatives in Kenya.
Since launching operations in rural Kenya two years ago with its partner, Fairoils, doTERRA's Co-Impact Sourcing®initiative has partnered with smallholder farmers in southern Kenya to create hundreds of jobs and is expected to create over 5,000 rural farming jobs by 2020. The doTERRA Healing Hands Foundation® has also provided funding and resources to complete nine community projects that have benefitted the health and well-being of thousands of Kenyans '" with more in the pipeline.
"As doTERRA's demand for essential oils continues to grow, so does our global supply chain, which now extends to more than 40 countries,"
said Corey Lindley, doTERRA's Founding Executive, President, and CFO.
"We're very pleased to improve the quality of life in this area and bring ethically responsible employment in essential oil production to low-income Kenyan communities. From rehabilitating dilapidated schools for Kenyan children to training farmers to increase their capacity and earning potential, our initiatives have already made a significant social impact in two short years. We look forward to expanding these initiatives to create positive impact on an even larger scale in the coming years."
Co-Impact Sourcing
Through its strategic partnership with Fairoils, an expert organization in farming and essential oil production, doTERRA has helped form cooperative farming groups within various communities across Kenya to produce CPTG® quality essential oils.
Key Co-Impact Sourcing initiatives in Kenya have included:
Lunga Lunga Project '" A 300-acre model farm, distillation facility and a small scale farming cooperative producing essential oil crops. This project works directly with the local community to grow tropical aromatic plants with the goal of including up to 2,500 farmers in this area by 2020.
Mount Kenya Project '" A small-scale farming cooperative of initially 250 smallholder farmers, training center, and distillation facility. doTERRA plans to expand this group to over 2,500 farmers by 2020.
doTERRA Healing Hands Foundation
In the past two years, the following community projects have been funded through donations from the doTERRA Healing Hands Foundation:
Construction of a new community center, kindergarten, community water tower and river bridge;
Improvements to two primary schools;
Creation of a water maintenance trust fund;
Indigenous culture and health trainings for over 2,000 school-aged children; and
Education and reforestation of indigenous trees.
In addition to donations from the doTERRA Healing Hands Foundation, doTERRA has established a Community Development Fund in Kenya. For every kilogram of essential oil produced by its farmer cooperatives, a portion of that revenue is set aside in a fund overseen by the cooperatives themselves to finance larger development projects at their discretion.
To learn more about doTERRA Co-Impact Sourcing, please visit www.doterra.com/difference-co-impact-sourcing.
About doTERRA
doTERRA is the world leader in sourcing, testing, manufacturing, and distributing CPTG® essential oils through a global network of more than 5 million customers. doTERRA, the Latin derivative meaning "gift of the Earth," sets the standard for essential oils by providing to its customers the most tested and most trusted oils and having developed the expertise and commitment required to derive these unique oils directly from the best sources in the world.
doTERRA Co-Impact Sourcing® provides local growers and distillers fair compensation for their efforts, creating stronger local economies and a healthier, stable supply chain. In addition to a premium line of single-plant extracts and proprietary essential oil blends, the company offers oil-infused personal care and spa products, dietary supplements and healthy living products for the home.