Interview With Luis Kasuga General Director Nikken Latin America
February 1, 2018
By Team Business For Home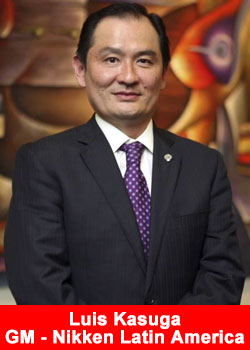 Nikken is a worldwide company offering revolutionary products that support a healthy home and lifestyle, through a combination of groundbreaking science and natural solutions. Nikken was founded in Japan in 1975 by Isamu Masuda.
In 2009, Nikken announced a new executive management team under Kurt Fulle. Late in 2014, his team began a makeover of the Nikken network marketing business model, which now put equal emphasis on sponsoring and retailing.
Luis, what can you tell us about Nikken?
"This year we will celebrate our 25th Anniversary in style; in fact, our celebration in style already began with a very successful 2017. Our growth in sales and sign-ups was 40% and 52%, respectively.
We have had a record-breaking year in moving-up-in-rank and in the number of high bonuses paid. In total, we closed 2017 with 90 new Platinum, 28 new Diamond and 14 new Royal Diamond consultants.
Our new compensation plan is much easier to explain, results are achieved much more quickly, its more dynamic and more fun, while at the same time we ensure the integrity and sustainability which have always been our trademark.
Something that is very important and gives us great peace of mind and confidence is the number of both male and female millennials that moved up in rank. We had been trying to get the attention of new generations and I am sure we are attaining this goal through our compensation plan and our wellness home and office concept.
Today, we are fortunate to have in our business four generations that together share the benefits of our products, the great potential of our Nikken business and the amazing challenge of continuing to invite more and more people to know, discover and achieve a balanced life based on our 5 Pillars of Health.
Will Nikken introduce new products?
We know we still have a long way to go. We will travel this road led by the firm hand of our leaders from North America, Europe, and Latin America. We plan to introduce nutritional products based on natural super foods and products based on wellness technologies, as well as to enhance our incentives to make it even more attractive for people to join our business.
We also plan to have a broader presence in the digital world. In fact, one of our biggest projects is to harmonize our IT platform worldwide. With this new foundation, we will very soon renew our projects to continue to expand our business to additional countries.
During our Diamond Seminar in the Rainforest of Panama last November, Diamond and Royal Diamond Nikken consultants from several countries got together to unify the mission and the message they want to share with the world. This year they have undertaken an international agenda of activities in virtual platforms to share their vision and experience with thousands of people.
Meanwhile, on May 19th of this year we will be celebrating in Mexico City Nikkens 25th anniversary in Latin America. Afterwards we will commemorate this anniversary by travelling to Japan with the winners of the 2017/2018 contest.
For us, to travel to Japan means learning about the roots of our company and its culture, its philosophy, and respect for nature. During this trip we will visit the city of Hiroshima, where we will present an offering of 1,000 origami cranes representing our wish to join in world peace during a ceremony at the Childrens Peace Monument.