LifeVantage Products Now Available Throughout China
February 1, 2018
By Team Business For Home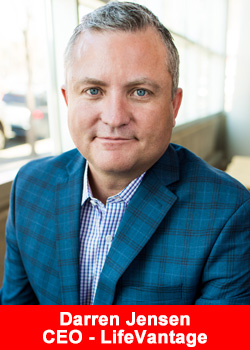 LifeVantage Corporation (Nasdaq:LFVN) today announced the commencement of a unique cross-border e-commerce model that leverages social marketing in China, making LifeVantage products available for the first time ever throughout China.
LifeVantage is a Triple A classified opportunity by Business For Home, the top rank.
A burgeoning e-commerce market, Chinese government enthusiasm for e-commerce and entrepreneurialism, a ubiquitous need for full-time and secondary income in China, and a strong demand for nutrigenomic products are among a confluence of factors making the model a win-win for both China and LifeVantage.
"As an organization, it is a great source of pride to be able to formally offer our products nationwide in China,"
said LifeVantage CEO Darren Jensen.
"LifeVantage has a long and successful track record in Asia, and we are excited to be in a position to expand that footprint.

We are thrilled about the entrepreneurial prospects this will introduce to the people of China and that they will now be able to benefit first-hand from our leading-edge products and begin their own biohacker's journey."
Effective Feb. 1, 2018, select LifeVantage products will be available for purchase throughout China via a secure e-commerce website hosted in China. Products will be shipped directly from the U.S. to consumers.
Those in China wishing to enroll as social marketers will be able to promote LifeVantage products to Chinese consumers through the e-commerce platform. Social marketers will be mentored and trained by LifeVantage marketing consultants – successful distributors outside of China who are trained on the e-commerce model and who are expert trainers on LifeVantage products. This new social marketing model is separate from LifeVantage's traditional network marketing model.
Initially, Protandim® Nrf2 Synergizerâ"¢, TrueScience® skin care products, and PhysIQâ"¢ Protein Shake will be available in China on the e-commerce platform. They will be the same formulations that are sold in the U.S. and will be sold at U.S. retail prices. Other products will be rolled out strategically over time.
"This is a major milestone for our company. We are pleased to be able to roll these products out to the people of China through this innovative model, which we believe has enormous growth potential," said Courtland Pearson, LifeVantage Senior Vice President of Global Field Development Asia Pacific.
"China is the fastest growing consumer market in the world, and we fully anticipate China being an important market for us moving forward."
In addition to China, LifeVantage products are available to customers in the United States, United Kingdom, Australia, Canada, Mexico, Japan, Hong Kong, Netherlands, Thailand, and Germany.
About LifeVantage Corporation
LifeVantage Corporation (Nasdaq:LFVN) is a pioneer in Nutrigenomics – a new science dedicated to biohacking the human aging code. The company is engaged in the identification, research, development and distribution of advanced nutraceutical dietary supplements and skin care products, including Protandim®, a line of scientifically-validated dietary supplements; TrueScience®, a line of Nrf2 infused skin care products;
Petandimâ"¢ for Dogs, a companion pet supplement formulated to combat oxidative stress in dogs; Axio® Smart Energy Drink mixes; PhysIQâ"¢, a Smart Weight Management System; and Omega+, a 3-in-1 fish oil supplement. LifeVantage was founded in 2003 and is headquartered in Salt Lake City, Utah. For more information, visit www.lifevantage.com.