Sven And Audrey Goebel Preparing To Launch With A Global Happiness Consumer Brand
February 27, 2018
By Team Business For Home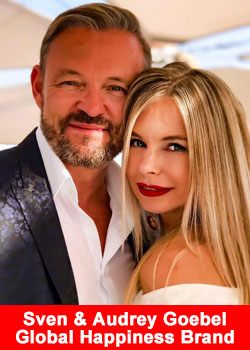 Its been quiet around one of Europes top-leading couples in the Network Marketing scene the past year. Not for much longer. Around late summer of this year, Sven & Audrey Goebel will be back at the forefront of our industry.
With a group of trusted partners with more than 100 years of experience in various areas of the direct sales, social media, technology and finance industries combined, they are working to create a complete group of companies in the physical and digital lifestyle-consumer field.
Based on the principles of their Happiness Circle, which began life in 2004, as well as numerous world-class Swiss Quality features, together with an ambitious team of 20 employees already, they will add some fresh wind to the marketplace through a true European based company.
The ingredients list of the new venture looks like a highly delicious menu: A Hi-End, proprietary, science-based and unique consumer product line, a top-notch, modern and powerful Compensation- and Customer Affiliate Program plus a separate Customer Loyalty Program and latest technological real-time standards for transparent commission runs of the various bonus programs.
For the first time in the industry, their IT will use Blockchain technology with smart contracts for ensuring and documenting utmost transparency and integrity.
In a virtual 3D model, partners will be able to see real time developments/changes of their partners and customers in a time lapse in their cockpit. Added to this will be a ultra-modern look and feel design language for their companys appearance and the stand-alone consumer brand.
The business model is a customer-centric distribution model not only for Network Marketers, but also for Online Marketing focussed Social Marketers. Anchored in the Happiness Philosophy and spiced with the unique Swiss Lifestyle, there is a lot of excitement to be expected from their future community.
The names of their Corporate Executives at C-Level reads like a true Who-is-Who, gathered together both from inside and outside the industry, all being recognized experts in their field.
This new European venture could be exciting, as Sven Goebel has proven over the past 25 years that what he touches transforms into success. The couple announced to share more information within the coming months as they approach their soft- and pre-launch phase.