How Tupperware Is Helping NASA Grow Vegetables In Space
March 31, 2018
By Team Business For Home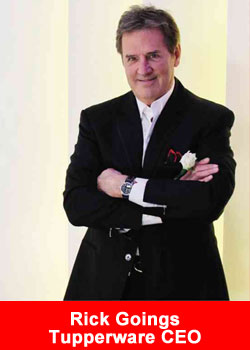 On April 2, 2018, the SpaceX Dragon spacecraft will make its 14th resupply to the International Space Station (ISS). Riding on a Falcon 9 rocket, Dragon will take supplies, equipment and scientific research to the crew members aboard the ISS. One of the areas of scientific research for this mission is furthering research on growing vegetables in space.
Since 2015, astronauts have grown crops in space using the Vegetable Production System (Veggie), a plant growth unit deployed on board that grows vegetables (lettuce, tomatoes, etc) to provide a continuous source of fresh food to the crew.
The Veggie also serves a scientific purpose, determining how plants sense, develop and respond to gravity, harvested, analyzed and eaten. NASA scientists also say that growing plants in space can also help them understand how to improve plant production on Earth as well.
With the Veggie system, a seed is inserted into a round soft surface known as a plant pillow inside a circular container. Astronauts then inject the plant pillow with a syringe filled with water. Prior Veggie experiments showed that some plants did better than others based on the regularity of the water and oxygen they received.
But on this mission, the Veggie experiment uses a new method to deliver nutrients to plants through the Passive Orbital Nutrient Delivery System (PONDS), a new plant growing system designed to generate uniform plant growth through watering and keep the root structures of the plants in place.
Howard Levine, NASA Research Scientist, designed and created a prototype of PONDS in 2017. The prototype was sent to Techshot to fine-tune PONDS for use on the ISS. Techshot called in the consumer food container company, Tupperware Brands to create a new system that would be an alternative to the plant pillows of previous missions.
Tupperware and Techshot developed the new semi-hydroponic system that needs less crew maintenance.

PONDS uses absorbent mats, instead of plant pillows, to wick water to seeds and roots through a reservoir system. 
The reservoir system passively disperses water evenly through each plant cylinder (instead of injecting water into the plant pillow with a syringe) in the PONDS reservoirs. This creates a more consistent supply of water which is needed to grow seedlings into mature plants and crops.
In a NASA release, Nicole Dufour, Veggie project manager, NASAs Kennedy Space Center, Florida says the PONDS units have features designed to mitigate microgravity effects on water distribution, increase oxygen availability and provide sufficient room for root zone growth.
PONDS devices are single-use items and will be discarded after the plants are grown and harvested. This 14th SpaceX resupply mission will have seven PONDS devices in orbit.
These include four black opaque modules to grow Outredgeous red romaine lettuce, a part of the Open Source Seed Initiative; two modules with clear windows and a removable cover which lets astronauts observe red romaine lettuce root growth and evaluate water distribution in the hydroponic reservoir; and, a clear module that will be used for testing and videography to look at the microgravity hydrodynamics of the reservoir.
According to an article in Forbes
About Tupperware Brands:
Tupperware Brands Corporation, through an independent sales force of 3.2 million, is the leading global marketer of innovative, premium products across multiple brands utilizing social selling.
Product brands and categories include design-centric preparation, storage and serving solutions for the kitchen and home through the Tupperware brand and beauty and personal care products through the Avroy Shlain, Fuller Cosmetics, NaturCare, Nutrimetics and Nuvo brands.