Rudy Fares Network Marketing Professional In Lebanon – Middle East
March 22, 2018
By Team Business For Home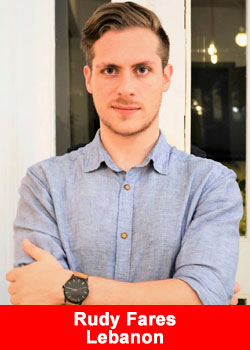 Rudy Fares is a Lebanese Equity Trader working in Portfolio Management, Startups advisory and MLM coaching and a multi-instrumentalist and drummer.
Since the early age of 17, Rudy got introduced to Network Marketing as some shady business framework that involves getting people in some sort of a Pyramid, making you earn money from this chain of people.
He decided to go for himself to check the facts in order to make a judgement for himself, because even the naysayers didn't know how to explain it.
So he asked his friend to attend a presentation. He was very convinced of the business model, and decided to embark on this journey.
Eager to learn the training skills and presentation techniques to become the best, he became one of the few young Networkers in the Middle East with a large distribution network, presenting the business to doctors, engineers and senior management people with a high success rate.
He attended conferences and seminars in Europe, one of which was in Vienna where he was invited and got to travel with his teams to get his rank recognition & introduced the Middle East as an emerging market for MLM.
"Network Marketing is much more than a business, it's a thought process & a lifestyle."
With the turbulent events happening in the Middle East hitting their peak in 2012 (Syrian war, corruption in the Lebanese system, Blacklisting from the USA for internal Militias), most companies refused to deal with his markets and stopped their businesses.
After several attempts trying to fix the situation, Rudy had to halt his MLM business, and switched to coaching and training reps all over the world via Video Calls, attending conferences and supporting the Network Marketing industry.
Today, Rudy is managing portfolios of 7 figures in Stocks, Real Estate and Financial Advisory, Startups and MLM coaching.
He strongly believes that MLM is one of the ways to acquire wealth, bringing thousands of other people along the way, and there's no other fair business that does so. He also compares Network Marketing to an "offline Blockchain", as they both cut through the middlemen and send the product directly to the consumer.
"My experience in MLM definitely changed the way I think in business, and gave a new meaning to Financial Freedom".
His tips for Networkers?
Always research the company you are going to work with and check for the SPSH : company/leadership Support, Product, Scalability and History.
MLM is a People's business. Work on your communication skills & brush up your presenting skills.
There's ALWAYS bad reputation, you just gotta know how to deal with it.
MLM is not for everyone, know how to differentiate between Customers and Reps.
Your Team will follow YOU, so always keep that in mind and work on your self branding.