Seville And Rachaell Ko – From Broke To Financial Independence
March 3, 2018
By Team Business For Home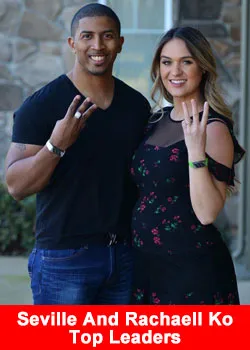 So very often we hear of the Rags to Riches story, but not very often do we hear of these incredibly impressive and fast results.
From Kansas City, USA –  Youngest Double Presidents ($500,000sales a week) Seville Ko, 32 and Rachaell Ko, 27,  just 14 months ago were the broke young couple making $3,000 per month as a self-employed personal trainer and a full-time flight attendant.
In just under a year, this couple found the right MENTOR, made the decision to go All In, leveraged the right system and in part-time hours helped successfully pioneer North America generating $8.8 million in sales and over $350,000 in personal income in just under 12 months.
Seville is a former NCAA football player and coach with 12 years in the fitness industry. Even with a Masters degree, he was a failed gym owner and online trainer.
Rachaell has 5 years in corporate sales and 5 years as a flight attendant with absolutely NO network marketing experience.
Before joining their current company, Seville had 4.5 years experience in network marketing and was the poster child of fitness and wealth, but his income was only at $50-$200 per week.
Even though he did not have the personal income status, he was a diligent student of the trade and his BURNING DESIRE to succeed gave him the right perspective to identify the right situation. They both credit the shortcut to their recent success to mentorship (Romacio Fulcher) and finding leaders who were in the trenches building their empire.
Here are their 5 important KEYS to SUCCESS:
1.  A burning desire:
They were newly engaged and wanted to break the financial curse and begin a legacy for their family. Rachaell, 1 of 9 kids, Seville, 1 of 6. They wanted to start their family debt free. After just giving birth to their fist son, Malakai, they completed this goal. They burned the BOATS right out the gate!
2. Timing
Product timing in the marketplace for a global demand. Timing in the company. They saw the opportunity pioneering wearable technology and the FIRST Non-invasive Sugar trend tracker. $14B – $600B in Growth over next 6 years. World Global Network being in its first year, entering year 2 in North America and Asia.
3. Mentorship
Find someone who has what you want and do what they do. Qualify for their time and do exactly as they say. Proven relevant results… they wanted to see first hand what it looked like to build the multi-million dollar business. The #16 Earner and FASTEST Double President Millionaire, Romacio Fulcher and #4 earners Chad & Nattida Chong. They pride themselves in continuing to be the most coachable students in their organization. They recently relocated from Kansas City to where their mentor resides in Sacramento to learn the MOST from their mentor.
4. System
It must be simple and duplicatable. We didnt want to do home meetings. We love that we teach our team how to send a 3 minute and 30 minute recorded video via text and share scripts to help people build an at-home business in 195 countries.
5. Hard Work
They started with part-time hours, but their attitude was WHATEVER IT TAKES! They did back two back 90-Day runs and became debt free and saved over $100,000 by the end of the year. They have worked harder on their personal development as well as investing in Tony Robbins UPW, and Date with Destiny, Eric Worre Go Pro and Grant Cardone 10X Growth Con. Everyone says they want to change their life, they just meant it!
Seville and Rachaells immediate goals are to help 10 people earn $2,500 per week part-time. The lifestyle through owning your time and money is a worthwhile price to pay to enjoy time with your family.
It has come full circle in healthcare as they pioneer a 'breakthrough in humanity' for the estimated 1 Billion people who have sugar related issues medically and nutritionally.