Taro Kumaki Achieves Highest Rank With Dubli Network
March 27, 2018
By Team Business For Home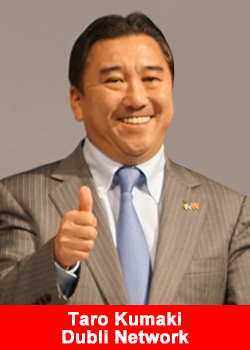 Dubli Network, a global e-business network marketing opportunity for Independent Business Associates in over 100 countries, has announced that Taro Kumaki of Japan is the first to achieve the companys highest rank, Senior Vice President Diamond (SVP Diamond).
The announcement was made at the Dubli Summit 2018, an exclusive two-day conference held in Dubai at the Atlantis, The Palm resort from March 9-10, 2018.
Mr. Kumaki spoke about his rapid rise to Senior Vice President Diamond in an interview with Dubli Networks Chief Network Officer, Jerry Yerke.
What industry did you come from prior to your journey with Dubli?
"I have always had the passion of an entrepreneur. Fortunately, with time and experience, I have achieved success in many companies. I currently own and operate three companies. After my Dubli business began, I was able to create an e-commerce department to complement my other businesses."
How long have you been a Dubli Network Business Associate?
"I will celebrate my two-year anniversary as a Dubli Network Business Associate in April 2018."
Now that you have achieved SVP Diamond, the highest rank in Dubli Network, what is your next goal or target to achieve?
"My goal is to continue my daily activities and support my team members so they, too, can achieve and experience the success of the Senior Vice President rank."
What would you say to anyone aspiring to be the next SVP Diamond?
"It starts from within, by setting a target date to achieve your goal and making a verbal commitment to your team and the company. Vocalize this goal as much as possible so that everyone can work and assist you with this achievement. For me, a sense of urgency and a deadline made it possible. I could not let the team down, nor myself or the company. It truly becomes a responsibility to achieve the target."
How has your team and your countrys Business Associates rallied around you?
"I believe that achieving this goal would not have happened without a true team effort. It was obvious to everyone how proud the team from Japan was when I was on stage with the companys executives being honored for this achievement. Being the first in the company to achieve the highest rank gave all of the Japan Business Associates a sense of pride and satisfaction.
Now they believe with commitment, dedication, and perseverance anyone can achieve any goal they choose. We also believe in the commitment of the whole team."
Do you feel like Roger Bannister? 
"Yes, I do. In his example, the world thought it was scientifically impossible to run a mile in less than four minutes. Achieving Senior Vice President Diamond has nothing to do with science, however, being first' does pave the way in the same regard. I expect many more Business Associates to achieve this rank in the very near future."
Do you feel it was worth the hard work and effort? 
"Absolutely. Every ounce of my body, mind and heart was poured into this journey to SVP Diamond. Although it seemed impossible at times, difficult at times, the feeling now is that it was worth every bit of my energy and focus. There is nothing that satisfies me more than having the team in Japan rally around this achievement and being able to celebrate together."
What do you like most about achieving this very prestigious rank?
"While on stage in front of hundreds of leaders attending Dubli Networks September 2017 leadership event in Dubai, I promised to be SVP Diamond by the next event. I focused and committed to making sure I followed through on that promise. I am most proud that I did it and proved that it could be done."
About Dubli Network
Founded by Michael Hansen in 2003, Dubli Network is a sophisticated, global e-business network marketing company offering Independent Business Associates in over 100 countries an opportunity to earn an income by marketing Dubli.com, a global e-commerce digital marketplace that provides Cash Back savings to consumers in more than 120 countries.
Through Dubli.com, consumers shop at their favorite online stores, save with the best coupons and deals, and earn Cash Back with each purchase. The website features thousands of local and international brand name stores, such as Amazon.in, Walmart, and Nike, and industry-leading travel companies, including Expedia and Hotels.com. Dubli has adapted its multilingual and multi-regional e-commerce site to serve multiple international markets in local language and currency to strengthen its global e-commerce presence and encourage sales in its countries of operation.
Entrepreneurs have the opportunity to create their own distributor organization by joining Dubli Network. This global network of independent distributors generates traffic and drives sales to Dubli.com.
Dubli.com and Dubli Network are subsidiaries of Ominto, Inc. and headquartered in Boca Raton, Florida.
For more information, visit www.dublinetwork.com and www.dubli.com.