Jose Luis Pastrana Achieves Double Diamond Rank At Vida Divina
April 3, 2018
By Team Business For Home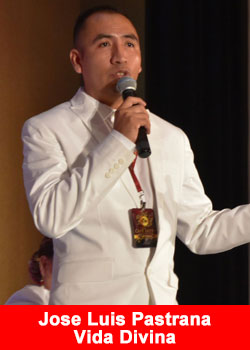 Vida Divina, a global direct marketer of nutritional and healthy lifestyle products, announced today that Jose Luis Pastrana has obtained the rank of Double Diamond.
Unlike the '˜Field of Dreams from the film of the same name, the fields that Jose Pastrana labored in were usually places where dreams were broken, discarded and forgotten.
It takes people of remarkable strength, fortitude and vision to see past the miles of fruits and vegetables to the promised lands beyond. Jose Pastrana is one those remarkable people.
Jose lives in Fresno California with his wife, Norma, and their three children. They lead a very different life now from the one they endured not many years ago. One now full of hope, joy and prosperity, but it wasnt always that way.
Like many, Jose immigrated from Mexico in hopes of finding the American Dream. What he found was very different. He recalls spending long, hard hours in the hot fields earning less than minimum wage. Even with Norma working packing almonds, they were still falling behind to the point of being evicted.
Jose Luis Pastrana tells us:
Just a few years back, I remember having to work picking picking fruit to feed my family. They would pay us 25 cents per full basket picked, so we had to work fast, but no matter my speed my check was only under $250 a week.'
Often depressed and in despair over shattered hopes and expectations, he soon became dependent on alcohol just to make it through the day. Then one day a friend suggested giving Network Marketing a try as way of earning a few extra dollars.
Although it helped, it wasnt the answer to his financial problems.  That is until he met Armand Puyolt a few years later.  Although he didnt know it at the time, that meeting was about to change his life forever.
Jose Luis recognized:
I immediately saw the enormous potential behind the vision and products of Vida Divina and set about to learn everything he could from people who were eager to teach.' 
He followed Armands 5 steps system and soon things started coming together.  Not only for himself, but for his team as well, many of which had no experience what so ever. That meant a lot to Jose, to see others prosper and grow.  Soon he would return to the same fields he once knew, but this time not as a picker, but as inspiration to others seeking the same opportunities.
Ada Caballero, Triple Diamond of Vida Divina, says:
I saw his economic pain, as most of you may also have; but instead of just patting his back and say everything will be fine, what I offered him was plan of action,  a step by step resolution to his economic pain. When he started to work day and night non stop, I knew then, he was going tragic to magic fast.'
Today the Pastranas work from home and dont even own an alarm clock.  No longer hitching rides on the back of trucks at 3 A.M., he was soon able to buy two new cars for his wife Norma and himself and now is about to buy his first home, his dream home.
He still works hard, but now its for himself, his family and his team.
Jose Luis said:
I am 100% committed to helping others help themselves, by leading the way and showing them what can be achieved. You see, all too often people let go of their dreams and become focused on just living day to day.' 
He knows, because he was there.
To all who live hurting economically and are starving for something to change in their lives,. Jose Luis will tell them,
work like you never worked in your life, and youll have a lifestyle like you never dreamt of before.'
Jose Luis said:
I was blessed the day I met Armand, and My sponsor Ada Caballero. I want others to experience the same salvation he was so fortunate to find.'
Although he has traveled long and far, the real journey is just beginning for Jose and his family.  He takes in great pride that his children will never know the hardships that he and Norma endured, and that their futures will be secured with college educations.
Jose went from picking fruits, living on $250 or less a week to now reaching within a year and a half a consistent 6 figures a month in commissions. Thanks to hard work and Vida Divina, their American Dream has been found.
Armand Puyolt ends with:
I have said this before, but its worth repeating, I have seen many people like Pastrana that were in the fields picking fruit, not by choice but by necessity. Now to see his life change in front of my eyes is the greatest blessing God has given me.'
 About Vida Divina LLC
Vida Divina had one of the most Successful Launches in history, The company was founded by Network Marketing Legend Armand Puyolt, who has been in the Top Earners ranks for over 25 years as a distributor and selected by Business for Home as one of the ambassadors of the Network Marketing Industry.
Now as CEO of Vida Divina, Armand Puyolt has a footprint into over 35 countries, with 12 impressive Vida Divina corporate buildings, training centers worldwide, and distributing millions products a month worldwide with in first 6 months of launch.
Vida Divina also currently ships their products to over 30 countries and owns its own manufacturing facilities.
As a debt free company, Vida Divina was created to be the Ark: to cary as many people to success as possible, helping people from all walks of life to have an opportunity to change the future of their family and themselves for life.
For more information please visit www.vidadivina.com