Market America Convention 2018: Community and Recruiting
April 10, 2018
By Team Business For Home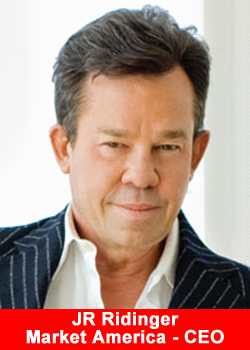 According to an article in Herald Keeping:
The Market America Convention 2018 marked the 25th anniversary celebration of the triumphant shopping network. Over 20,000 people gathered in Greensboro, North Carolina in August for a five days of powerful speakers, motivational awareness, and strong community support.
What started as a couple in their garage has become an international consumer-driven force to reckon with. Everyone from the top Market America executives to millionaire UnFranchise owners to celebrities were there.
The air fizzled with the energy of thousands of UnFranchise owners at every level of their business. There to learn, these individuals, couples, and families devoted themselves to learning and networking to their hearts content.
JR Ridinger, the CEO of Market America, was one of the many larger-than-life speakers at the event. In one of his talks, he spoke about prospecting and recruiting. Its an essential component of the Market America business plan and involves bringing others on board to your team.
Ridinger says that some people never seem to have a problem with recruiting, while others struggle. This disparity could have to do with the approach that different people take to recruiting. JR Ridinger says its a process, not an event.' He emphasizes the fluid and relational nature of building a strong core of communication. Some see recruiting as getting' someone, but its quite different from that. Instead, prospecting and recruiting are a state of mind. Theres no singular point of recruiting, its an evolution of a relationship from prospect to shopper to UnFranchise owner. And theres no cookie-cutter method to doing it. It varies person by person.
Recruiting is as natural as breathing, Ridinger says. JR Ridinger drove this idea home by taking some deep breaths on stage. Living the Market America lifestyle is different than switching it on and off.
So thats where the dedication comes in. People want to know that theyre investing in a dream that youre wholeheartedly believing. Its one thing to recruit, and another to share your passion for the life that you have created, all thanks to Market America.
The Market America Convention 2018 is all about the teamwork and interconnectedness involved in owning an UnFranchise business. So it wasnt surprising that JR Ridinger brought up the ABC method as one system for gaining prospects. He says that your contacts know other contacts, and there you have a large pool of potential new UnFranchise owners.
Rely on the guy who knows a guy who knows a guy. Invite those people to learn more about Market America, and you may well find some enthusiastic new team members. Ridinger says that he didnt know Dennis Frank personally at one point, and Denis Frank is now the Executive Vice President of Market America.
He met him using the ABC method. Ridinger knew a series of people who knew him, so he was able to connect in that way. The people who may best suit your team and your professional needs may be just a few connections away.
Recruiting is a two-ways street. JR Ridinger says with passion that
you cannot say the right thing to the wrong person', no matter who you are.
The wrong person will be suspicious and negative, and wont hear any of your optimism and facts. You dont want them anyway', he says. The Market America Convention 2018 audience started cheering, understanding the impact of those words.
JR Ridinger says
and you cant say the wrong thing to the right person.'
Speaking with the right person, you cant really mess it up. Theyll continue asking you questions. The right people will see your passion and your state of mind, and theyll be interested. Since you cant mess up talking to the right people, JR Ridinger says when in doubt, blurt it out.'
Recruiting should become part of your regular conversations, and not reserved just for those moments you set aside for business. Those whove succeeded the most in Market America dont just believe in the system, its their life. They live their Market America UnFranchise business, and they let the world know it.
Ridinger says that when youre asked what you do, tell them what you hope to accomplish out of Market America. Get people interested in your story! Talk about your current Market America accomplishments and the support network that you have by your side.
JR Ridinger says that knowledge and attitude are huge when prospecting. If you dont know the answers to the questions asked by the people youre talking to, then youre not confident. That shows. Get to know what youre talking about and you wont have to worry about appearing to know what youre saying.
Another shift of attention at the Market America Convention 2018 was the explosion of Shopping Annuity and shop.com. In relation with prospecting, JR Ridinger reminds the crowd that 50 percent of Market America UnFranchise owners were actually shoppers first. Its a great, non-committal way for people to be introduced to the system.
Theyll get to know the advantages and ease of shopping with Market America, while keeping a relationship with you. And at the end of the day, Ridinger says that people are looking for solutions to their problems. Everyone has different ones ranging from their looks, to house cleaning, to their health. With Market America, youre offering those solutions. Once they see how well the products work, theyll spread the news through word of mouth.
Be consistent when it comes to prospecting and recruiting. You cant do a months amount of work in the span of a day. You have to take the business day to day. If youre looking too far ahead, youre not doing those vital things you need to be doing in the moment so that you can reach your goals. Call those two prospects a week, and keep doing it. Its adding up over time, even if it sometimes doesnt feel like it. Incremental progress builds the foundation for a solid business.
JR Ridingers Market America Convention 2018 recruiting speech was one of the many given those days. It highlights just how potent each of the sessions were. At every corner, attendees were welcomed with inspiration and actionable information. Electrifying and mesmerizing, the event epitomized the tenacity and visionary outlook of the Ridingers, the UnFranchise owners, and their multi-billion dollar grossing network.