Rhona George Earns Her 10th Mary Kay Pink Cadillac
April 10, 2018
By Team Business For Home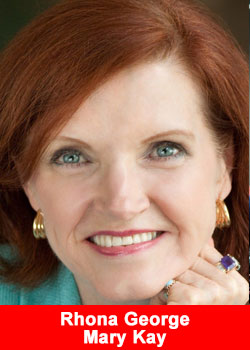 Rhona George has been driving around the city in a pink Cadillac since 1997. George picked up her 10th pink Cadillac at Long Cadillac in Southborough Monday evening.
She is an independent sales director for Mary Kay, the company that sells cosmetics. The pearly pink Cadillac is the most-coveted prize for salespeople at Mary Kay. To earn the car, a consultant must exceed goals set within Mary Kay businesses.
We earned this,' George told the members of her sales unit at a brief ceremony at the car dealership Monday.
To cheers and laughter, the group threw back the pink sheet to unveil her new trophy on wheels.'
Mary Kay was first founded by Mary Kay Ash in 1963. It was meant to provide women with a flexible business opportunity so they did not have to choose between career and family.
As Mary Kay consultants, independent contractors sell beauty products like lipsticks, foundation, and fragrances with an old-fashioned face-to-face business model. Often, Mary Kay consultants host intimate shopping parties in living rooms, selling beauty products and sharing advice.
George first became a Mary Kay consultant in 1994 and became a director in 1995. While she first thought the position was not for her, George quickly fell in love with the independence the job offered her.
I didnt want freedom and flexibility. I wanted to be in control of my own business. I didnt want to be downsized or laid off or re-positioned,' said George.

Its a wonderful thing to be able to make money and not be confined.'
George said social media and technology has changed the business methods Mary Kay uses. Now, customers can also purchase beauty products through the website. But for the most part the business has stayed true to the original model.
Already, George has a new goal in mind. She hopes she and her team will sell half a million dollars worth of Mary Kay products.
Before they all dug into some bright pink cake, George gave the members of her unit some advice.
Never quit. If you have something you want to do, dont let anything stop you,' said George.
About Mary Kay
At Mary Kay, success lies in our dedication to irresistible products, a rewarding opportunity and positive community impact.  For more than 54 years, Mary Kay has inspired women to achieve their entrepreneurial goals in nearly 40 countries.
As a multibillion-dollar company, we offer the latest in cutting-edge skin care, bold color cosmetics and fragrances. Discover more reasons to love Mary Kay at marykay.com.