Starbit International Launches Ars Superchain 2.0 Mining Software
April 4, 2018
By Team Business For Home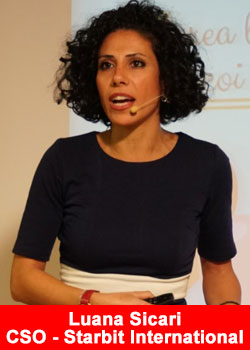 Starbit international continues its growth and expansion and makes significant investments in the expansion of its block chain services and development of digital offerings.
In December 2017, Starbit International surpassed 668% growth in its first year, better to say, in just 7 months since its launch back in May 2017.
Thousands of new distributors and about 55,000 new customers all over 47 countries of the world.
Recently Starbit International has launched Ars Superchain 2.0. The first software to mine with one click.
After the innovative WalkyBit App, Starbit has launched this software program which able users to mine cryptocurrencies with one click on any windows pc into a potential digital automatic residual income generator.
It learns how real mining works, providing graphics and information about the block chain world. The practical part enables any user to start mining modern cryptocurrencies without any technical knowledge just with one click.
Ars SuperChain 2.0 is special software to be simply installed on any windows Pc that works over a 12 months period of time providing a -learn by doing Block chain Information pack – together with 2 days Blockchain & Motivation Intensive Seminar in Dubai.
Luana Sicari, CSO stated:
"Starbit wants to offer innovative products and a great opportunity for promoters to enlarge the potential customer base generating residual incomes all day long. Any customer has 5 days free trials of the software.
About Starbit International
Under the wise direction of a group of investors and technology partners, we can rely on a team of experts in various areas ready to support the community, with over twenty years experience in financial management, administration, sales and technological innovation. A professional staff is at your service also with VIP assistance.
We are committed to selecting everything needed for a person to earn money working from home taking advantage of new technologies.
The goal is to offer various degrees of knowledge to those who are interested in playing an acting role, without needing to become experts, like is happening today. Starbit also offers an opportunity to those who want to transform all this into a work from home opportunity.
Starbit uses a compensation plan with 10 different earning centers, very lucrative and innovative that claims to be full compliance worldwide as there are no fees to subscribe, nothing to buy, and distributors are rewarded only from the sales of services. Customers have the opportunity to benefit from special offers, discounts, promotions, thanks to bounties' offered by industry operators (third parts operators).
For more information please visit www.starbit.com