Total Life Changes National Director Sara Gonzalez Breaks New Ground In Paraguay
April 6, 2018
By Nicole Dunkley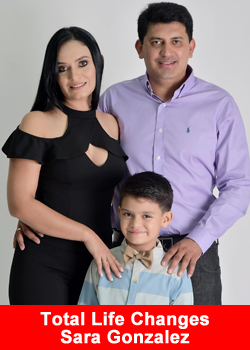 As Total Life Changes continues its successful spread throughout South America, its important to recognize the people on the ground whose ambition is driving that momentum. Before new National Director Sara Gonzalez decided to start her business, Paraguay wasnt even on the TLC map.
In March 2017 I was coming off of a failure at another multilevel company, but I was still convinced MLM was the way for me to start a business of my own,' Gonzalez recalls.
In TLC, I saw a solid company with momentum, products I believed would drive demand, an exceptional payment plan and excellent leadership.'
Thanks to a blessed Goddess I met Ana Cantera, my sponsor, through my social networks,' she continues. Seeing the success that she had in TLC, my husband and I made the decision to be part of her team.'
The first 48 hours for new independent business operators are always a challenge, but they were specially tricky for Gonzalez. When I tried to obtain my registration with the company, Paraguay wasnt even an option.
We would be the first through the breach. That meant wed have little local support or popular familiarity with the brand.' Unlike many, however, Gonzalez looked at these snags as an opportunity to become a pioneer in her country.
I come from generations of poverty,' she says. My father was in and out of public hospitals for 16 years before he died. As children, my brothers and I had to make do with less, and we also had to grow up fast. I
It means everything to me to break from this cycle, to leave a legacy and help other families improve their fortunes.'
Gonzalez says that success allows people to dream again, and broaden their economic goals. Dozens of people from my team have made huge changes thanks to the supplemental income TLC brings in for them, and others have quit their day jobs to focus full-time on their IBO.
Right now, my short-term objective is to promote the qualification of 50 members within my organization to the rank of Director. In the long term, I want to know that 1000 families have achieved financial freedom through this work.'
She cites the companys transparency and the seriousness with which it takes customer service and distribution as primary reasons for its success, as well as the excellence of its leadership. Sara Gonzalez is rapidly becoming one of these leaders in Paraguay, and in South America as a whole.
About Total Life Changes
Total Life Changes offers a diverse product portfolio of health, wellness and beauty products. President and Tea Executive Officer Jack Fallon created TLC over 16 years ago with a single product: NutraBurst®.
Since that time, TLC has continued to develop the Iaso® brand of products to include a diverse and attractive product portfolio matched with a hybrid binary compensation plan that allows IBOs of TLC to be rewarded quickly for introducing new customers to our products and business opportunity. Find out why so many are saying, It really is different over here.'