Chinese Authorities Arrest 119 OneCoin Leaders, $7.1 Million Seized From Sebastian Greenwood, $2.4 Billion Involved
May 16, 2018
By Team Business For Home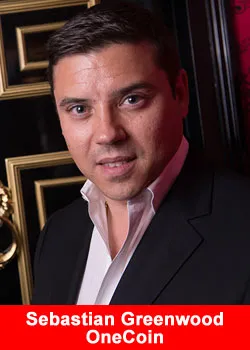 According to leading chinese website Sixthtone.com:
"Police in central Chinas Hunan province recently cracked a digital currency pyramid scheme crime involving 15 billion yuan ($2.4 billion) and arrested 119 suspects, a local television station reported Monday.
Founded by a Bulgarian woman, Ruja Ignatova, OneCoin entered China in September 2014. Though it is promoted as a cryptocurrency, it operates a private blockchain, unlike popular rivals like bitcoin, which uses a transparent public ledger.
In December of last year, the Zhuzhou Intermediate Peoples Court in Hunan ruled that OneCoin was an illegal pyramid scheme '" a multilevel marketing business that raises profits primarily by recruiting new investors. The verdict also revealed that the organization had charged membership fees of 1,000 to 280,000 yuan. Law enforcement confiscated more than 1.6 billion yuan from the criminal network.
The phenomenal growth of cryptocurrencies over the past few years has attracted millions of investors while also creating opportunities for criminals to take advantage of hype around the technology.
Zhuzhou police were tipped off about OneCoin as early as March 2016, and in December the same year, state broadcaster China Central Television warned the public that OneCoin was one of more than 60 virtual currencies that exploited the concepts of blockchain technology and digital assets to lure people into a pyramid scheme.
Unsuspecting investors, however, continued to fall for the digital currency. In February 2017, OneCoin attracted widespread attention after news broke that Chen Man, a former convict who had been released after being wrongfully imprisoned for 23 years, had spent 1 million of the 2.75 million yuan he had received in state compensation on OneCoin. Video footage showed a OneCoin saleswoman telling him that the cryptocurrency had been licensed in 214 countries '" more than the number of countries China acknowledges.
The currency has even ended marriages: One woman in Inner Mongolia filed for divorce in 2016, explaining that since 2014, her husband had raked up loans to support his OneCoin habit.
Critics around the world have accused OneCoin of operating as a pyramid scheme, and regulators in India, Austria, Samoa, and Italy have also questioned or banned the currency. In January 2018, investigators raided OneCoins head offices in Sofia, Bulgaria, at the request of German authorities, confiscating documents and servers and interrogating around 50 people.
Yet despite international media exposure and attention from authorities, Sixth Tone found that as of Tuesday, OneCoin still has a presence on several Chinese social media platforms, including Weibo and Youku. "
A judgment from the Zhuzhou Intermediate Peoples Court in Hunan has been published with a list of frozen assets and include names and bank accounts.
Sebastian Greenwood, former OneCoin global master ambassador, is on the list with 45.5 million yuan ($7.1 million).
–