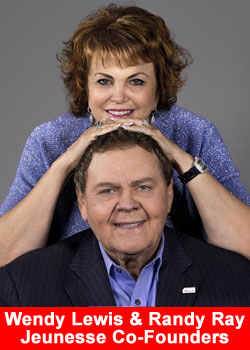 Jeunesse Global Ranks Among Top 3 Award-Winners In 2018 American Business Awards
May 17, 2018
Global youth enhancement company Jeunesse has been highly honored in the American Business Awards for a fifth consecutive year, winning a Best of the ABAs Grand Stevie Award for ranking No. 3 among the top 10 award-winning companies.
The Grand Stevie honor was based on the cumulative score of points received for each of the 12 Stevie Awards Jeunesse received.
Impressively, six of these awards were Gold:
Company of the Year '" Consumer Products
Founding Team of the Year '" Consumer Products
Management Team of the Year '" Consumer Products
Executive of the Year '" Consumer Products '" Randy Ray, Co-Founder and CEO
Maverick of the Year '" Consumer Products '" Scott Lewis, Chief Visionary Officer
Corporate Social Responsibility Program of the Year '" Jeunesse Kids.
Additional Stevie Awards include:
Company of the Year '" Health Products and Services
Woman of the Year '" Consumer Products '" Wendy Lewis, Co-Founder and COO
Marketing Executive of the Year '" Mark Patterson, Chief Marketing Officer
Marketing Team of the Year
Best New Product of the Year '" NV
Corporate Overview Video '" We Live Jeunesse'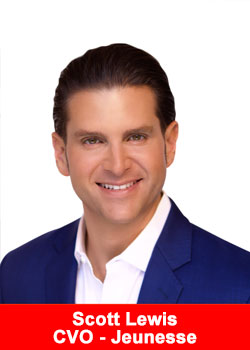 To be recognized among the top ten award-winning companies in the American Business Awards for a third consecutive year is truly humbling.

Our five-year track record of garnering more than 50 awards in this competition can be attributed to the hard-working family of Jeunesse Distributors and employees around the world who make our success possible, and is a testament to the strength and stability of the Jeunesse brand worldwide,'
said Jeunesse Chief Visionary Officer Scott Lewis.
Widely considered the Oscars' of the business world, the American Business Awards have presented the coveted Stevie award to iconic American companies and revered CEOs.
This years competition included more than 3,700 nominations from organizations of all sizes and industries. View the winners gallery here.
About Jeunesse
Jeunesse is a global direct selling company with a mission to positively impact the world by helping people look and feel young, while empowering them to unleash their potential. The companys exclusive skin care and nutritional products form a comprehensive Youth Enhancement System.
With multilingual customer service, back office support and a global enrollment system, Jeunesse utilizes a cutting-edge platform to share innovative products, training and support through 32 fully operational offices to markets in over 140 countries.
Learn more at jeunesseglobal.com.
Want to read the 27 reviews on Jeunesse? Click here for Jeunesse Review!