Loren and JR Ridinger – Founders Market America Reveal Super Yacht – Utopia IV
May 25, 2018
By Team Business For Home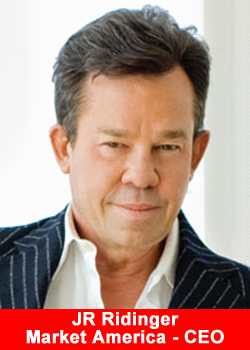 Direct Selling company owners Loren and JR Ridinger'"founders of Market America|SHOP.COM'"are no strangers to superyachts, since theyre on their fourth.
Each yacht they commission year after year, of course, has its fair share of upgrades.
But this years 63-meter (over 200 feet) Utopia IV, built by famed Italian yacht manufacturer Rossinavi, is truly and undeniably, the most spectacular and impressive one yet.
Touting six staterooms with accommodation for up to 12 guests, the master suite is also equipped with a six-meter terrace'"accessible by floor-to-ceiling sliding glass doors'"and 180-degree views. Staffing quarters accommodate up to 13 staff members.
The spacious interior is equal parts comfortable and luxurious, with a 70 square meter superyacht beach club, three swimming pools and ample space for entertaining. The interior and exteriors were created by Venice-based designer Enrico Gobbi of Team4Design, with a modern, sleek look and feel, mirroring the aesthetic of a speedboat.
And speaking of speedboats, Utopia IV gets its extraordinary power from its four, 2,600 horsepower MTU M96L engines, as well as Rolls-Royce Kamewa water jets. Together, the vessel can reach speeds of up to 28 knots in open water.
The engine combination also allows the yacht to travel at lower and higher speeds with high efficiency. For instance, a cruising speed of approximately 18 knots may be reached using only 35-percent of propulsion power.
We wanted it to feel like a speedboat with a minimum draft, efficient in its range of navigation with an intelligent propulsion and completely tailor-made,' began Federico Rossi, Chief Operating Officer of Rossinavi.
At the beginning of the design process, we had to consider the relationship between the engine horsepower necessary to achieve certain speeds and its weight. The overall balance is a particular feature of this boat.'
The couple flew to Italy earlier this year to witness the Christening of their new vessel in the Italian waters, where Loren Ridinger continued the tradition of cutting the ribbon, allowing the ceremonial Champagne bottle to break against the vessel, which is a sign of good luck.
As first appeared in hauteliving.com
ABOUT MARKET AMERICA, INC. & SHOP.COM
Market America, Inc. is a product brokerage and Internet marketing company that specializes in One-to-One Marketing. Its mission is to provide a robust business system for entrepreneurs, while providing consumers a better way to shop.  Headquartered in Greensboro, NC, the company was founded in 1992 by Chairman and CEO JR Ridinger and has generated $7.6 billion in accumulated sales.
Market America employs nearly 900 people globally with operations in the United States, Canada, Taiwan, Hong Kong, Australia, United Kingdom, Mexico, Spain and Singapore (Malaysia is opening in September 2017).  Through the companys shopping website, SHOP.COM, consumers have access to over 40 million products, including Market America exclusive brands and thousands of top retail brands.
Internet Retailer has ranked SHOP.COM #66 in the 2017 Internet Retailer Top 500 Guide and the 18th fastest growing Internet Mobile Retailer.  By combining Market Americas entrepreneurial business model with SHOP.COMs powerful comparative shopping engine, Cashback program, Hot Deals, ShopBuddyâ"¢, social shopping integration and countless other features, the company has become the ultimate online shopping destination.