Modere Announces Record-Breaking Q1 Growth
May 2, 2018
By Team Business For Home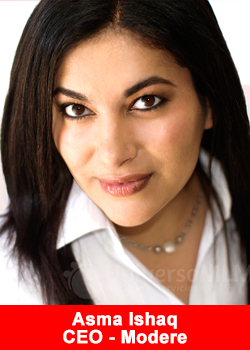 Modere (the Company'), the first social retailer to create a safe and forward-thinking approach to overall wellness, today announced double- and triple-digit growth rates in its key markets during the first quarter of 2018.
Modere is a Triple A classified opportunity by Business For Home, the Top Rank.
Measured year-over-year, first quarter revenue growth at Modere increased 37 percent in Australia, 43 percent in North America, and an immense 506 percent in Europe.
Building on this progress, Modere is positioned for continued growth in 2018 as the Company executes its mission of innovation in the manufacturing and distribution of science-backed, clean label nutritional, personal care, health and wellness and household care products.
At Modere, our brand commitment goes beyond delivering the most innovative clean label products in the industry,'
said Asma Ishaq, CEO.
Its also our constant goal to provide the best-in-class service to our customers. Our record-breaking sales during the first quarter of 2018 validate our growth plan and prove that we are moving in the right direction. Going forward, executing on our new developments and initiatives over the next several months will sustain our expansion and further our sales efforts all over the world.'
Modere is preparing to launch several new, category-leading products and a variety of business initiatives to assist their independent sales force over the next three quarters. Recent new product launches include an innovative Lean Body Sculpting Systemâ"¢'"based on the Companys 2017 blockbuster product Trim, which improves muscle-to-fat body composition'"as well as a guaranteed CFU-delivering probiotic.
Through its acquisition of Jusuru International in January 2017, Modere obtained Liquid BioCell®, a new generation of supplemental collagen formulated with the exclusive Collagen/HA Matrix® Technology.
This product has set the gold standard for the collagen and hyaluronic acid dietary supplement and skincare markets. Modere has received an influx of repeat orders and testimonials that support the effectiveness of Liquid BioCell® with visible and tangible results.
Additionally, Moderes weight management system, M3, has also significantly contributed to the company's exponential growth. M3 has been one of Moderes most successful launches, with more than one million pounds of weight loss achieved across customers who used the product.
About Modere
Modere offers a category-leading portfolio of live clean lifestyle essentials including beauty and personal care, health and wellness, and household products that are equal parts safe, high-performing, and beautifully designed.
At Modere, we create more than just products; we create meaningful experiences. We believe modern health involves live clean: pure nutrition, a clean environment, and safe ingredients across all products: consumable, topical and household.
Modere brings a holistic approach to well-being, and its products reflect a commitment to excellence and innovation with tested formulas proven around the globe for 30 years. Modere is headquartered in Springville, Utah. The Company is a proud supporter of Vitamin Angels®.
About Z Capital Partners
Z Capital Group, L.L.C. and its subsidiaries (Z Capital') are leading alternative asset management firms with approximately $2.3 billion of regulatory assets under management. For over two decades, the Partners of Z Capital have worked exclusively to realize significant capital appreciation by making controlling equity investments in manufacturing and industrial companies across a diverse array of industries, including basic materials, branded consumer, automotive parts, capital equipment and general manufacturing.
Z Capital creates value for its investors by working constructively with management teams to generate investment returns by structurally improving the strategic position, competitiveness and profitability of its portfolio companies.
The Z Capital Funds portfolio companies have aggregate annual revenues of approximately $1.3 billion, sell products in 57 countries, and have over 11,000 employees and an excess of 200,000 associates, directly and through joint ventures worldwide. The Z Capital investment strategy and portfolio companies are described at https://www.zcapgroup.net.