Nerium International And Signum Biosciences Announce Advances In Scientific Research
May 28, 2018
By Team Business For Home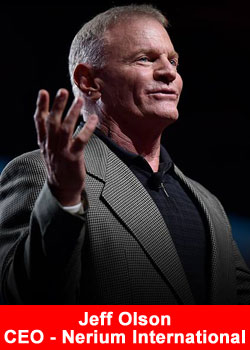 Nerium International and Signum Biosciences are proud to announce new research related to SIG-1273®, a unique, patented anti-aging molecule that only can be found in Neriums Age-IQâ"¢ Night Cream and Age IQâ"¢ Day Cream. 
Engineered by Princeton University biochemist Dr. Jeffry B. Stock, SIG-1273® is the result of 20-plus years of biomedical research. This intelligent molecule was perfected and patented as SIG-1273® after the creation and study of 1,272 previous molecules.
We have known that SIG-1273® acts as an antioxidant and skin protectant helping boost the skins ability to fight the signs of aging, but recently our R&D team discovered an additional benefit to this novel molecule. Excessive exposure to air pollution over time damages skin cells and accelerates the aging of our skin. We were able to show for the first time, that SIG-1273® also helps to protect the skin against air pollution induced damage,' said Signum Biosciences Chief Scientific Officer Eduardo Perez, PhD.
A joint research abstract on these R&D findings has been published in the prestigious Journal of Investigative Dermatology and was presented at the International Investigative Dermatology conference from May 16 to 19 in Orlando, Florida.
We are very excited to continue to provide additional research and benefits to our customers with the exclusive patented SIG-1273®molecule. This molecule is a key element in our Age-IQ Night and Day Cream, which has been a huge success since it launched in our international markets,' says Jeff Olson, Nerium International Founder and CEO.
In addition to the newest research around SIG-1273®, Nerium International is excited to have secured the exclusive rights to Signum Biosciences SIG-1459, an exclusive patented molecule that will make its debut in 2019. SIG-1459 is a proprietary ingredient that has strong anti-bacterial activity and superior anti-inflammatory activity against P. acnes induced inflammation. SIG-1459 has been clinically proven to be effective. A peer-reviewed paper on this molecule has been accepted and will soon be published in the esteemed journal of Experimental Dermatology.
The novel anti-acne molecule, SIG-1459 was developed by Jeffry B. Stock and Signums scientific team.
Nerium International prides itself on pioneering the innovation necessary to create some of the most effective skincare products on the market. Our longstanding scientific partnership with Signum Biosciences ensures we are continuously providing next-generation, anti-aging solutions directly to our consumers," said CEO Jeff Olson.
Since 2014, we have partnered with Nerium International, an innovator in age-fighting products and our product development relationship has been a perfect match. We look forward to continuing to innovate together and bring to market additional, novel and effective anti-aging and wellness technologies,' said Signum Biosciences CEO Maxwell Stock.
About Nerium International
Based in Addison, TX, Nerium International is a global relationship marketing company with age-fighting products crafted from cutting-edge research and science. Founded in 2011, Nerium International has shattered industry sales records while developing a strong customer base in North American, Latin American, Asia-Pacific and European markets. This unprecedented success has allowed Nerium International to generate $1.5 billion in cumulative sales after six years.
Nerium International was recognized for its historic growth by ranking No. 1 on the 2015 Inc. 500 List of fastest-growing private U.S. companies in consumer products and services and No. 12 in overall, as well as No. 38 on the 2016 Direct Selling News Global 100 List. Led by an executive leadership team with vast domestic and international experience, Nerium International is committed to providing an excellent product line based in real science and providing its Independent Brand Partners with a life-changing and outstanding business opportunity through relationship marketing.
For more information, please visit: www.nerium.com.