Nerium International Announces Leadership Promotions
May 12, 2018
By Team Business For Home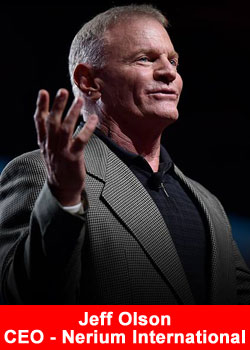 Nerium International Founder and Chief Executive Officer Jeff Olson is proud to announce the executive promotions of Deborah K. Heisz, formerly President, to Co-CEO of Nerium International, and Bo Short, previously Chief Sales Officer, to President of the award-winning, age-fighting skincare and wellness products company.
These top leadership promotions represent an exciting time for Nerium International,'
said Jeff Olson.
We are experiencing transformational shifts in our business that are allowing us to develop plans and implement strategies to build a multibillion dollar legacy company.'
The new appointment of leadership roles is a seamless transition and prime opportunity for Nerium International to grow to new heights, becoming one of the most dynamic forces in the beauty and wellness space worldwide. Deborahs Co-CEO role adds focus to the global companys total enterprise management as she strategizes, leads and shares the bold Nerium vision with Founder and CEO Jeff Olson.
We have strong leadership at headquarters and in the field to help contribute to long-term sustainable growth. I am honored to lead the charge with our Founder and CEO Jeff Olson, alongside our executive team.
We will continue building a life-changing and outstanding business opportunity while Making People Better,'
said Deborah Heisz.
There is a new synergy within Neriums corporate leadership team and the executive teams collective skill sets complement each other like never before in the companys six-plus years in business.
In his position as President of the company, Bo will lead in the role of overseeing U.S. and global sales teams, managing and directing all Nerium International sales and field development activity. Bo is a legendary figure in the direct selling industry with more than three decades of success. His experience in the management and growth of direct sales companies comes with a strong emphasis on field development and sales growth.
I am honored to serve our global team of Nerium Brand Partners in this new role. The opportunity to build upon the great innovations of the past six-plus years of Nerium success is a thrill,'
said Bo Short.
I look forward to working alongside Deborah Heisz and Jeff Olson to implement strategies that will continue to provide a vehicle for our Brand Partners and corporate team to accomplish their personal goals, while building a legacy company for generations to come.'
Since the companys August 2011 launch in the U.S., Nerium International has developed a breakthrough line of exclusive age-fighting skincare and wellness products that are science-based and produce real results to look, feel, and live better.
The fast-growing company has broken sales records while building consumer fans around the world and is currently operating in the U.S., Canada, Mexico, South Korea, Japan, Hong Kong, Colombia, Australia, New Zealand, Germany, Austria, and Singapore. Nerium International provides multi-lingual customer service, a robust suite of marketing and training materials, a global enrollment system, and a technologically advanced system to support the success of its Independent Brand Partners.
About Nerium International
Based in Addison, TX, Nerium International is a global relationship marketing company with age-fighting products crafted from cutting-edge research and science. Founded in 2011, Nerium International has shattered industry sales records while developing a strong customer base in North American, Latin American, Asia-Pacific and European markets.
This unprecedented success has allowed Nerium International to generate $1.5 billion in cumulative sales after six years. Nerium International was recognized for its historic growth by ranking No. 1 on the 2015 Inc. 500 List of fastest-growing private U.S. companies in consumer products and services and No. 12 in overall, as well as No. 38 on the 2016 Direct Selling News Global 100 List. Led by an executive leadership team with vast domestic and international experience, Nerium International is committed to providing an excellent product line based in real science and providing its Independent Brand Partners with a life-changing and outstanding business opportunity through relationship marketing. For more information, please visit: www.nerium.com.