Network Marketing Legend Larry Thompson 50 Years In Network Marketing
May 4, 2018
By Team Business For Home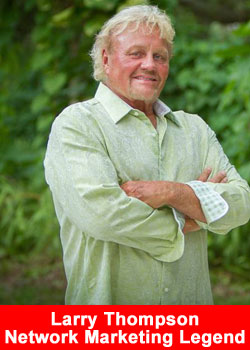 Larry Thompson is a legend in Network Marketing. Many people want to be a Mentor of Mentors' Larry is'¦
Garrett McGrath, president of the Association Of Network Marketing Professionals stated:
50 YEARS of Legendary Mentorship for everyone in our profession…
"The Mentor to the Millionaires"… 50 Years Ago TODAY (May the 4th 2018).
Larry Thompson said "Yes"… and joined a Network Marketing company… and the rest is TRULY history.
From his first Mentor in our profession Bobby Depew… to the great Jim Rohn... to all of the greats of our profession whom he mentored, raised up and poured into who now are elevating and leading our profession to NEW heights… So many of the systems, trainings, culture, truisms and fundamentals that we all take for granted today, came from Larry.
A heartfelt THANK YOU to you, Larry, and your amazing wife & strong partner Taylor Thompson, and your beautiful family.
Here's to the next 50 Years!!!
Cheers & lots of love and GRATITUDE from millions of us around the world who admire you, respect you, are grateful for you and your ripple effect. We ALL stand on the shoulders of GIANTS.
I could not let THIS May 4th pass without acknowledging my best friend, my business partner , MY Mentor, and mostly amazing husband who is my knight in shining armor because it is his 50th Birthday!!
Today marks his 50th Birthday in the Network Marketing Profession.
Taylor Thompson stated:
"I know he has changed my life as well as my beautiful girls! I know that he is my husband but I still learn from him every day . He is the most giving caring human I think I have ever known.
I feel so blessed every day that we share such an amazing life. This industry has afforded us an amazing life to do what we love and we are always so grateful for the people and relationships built as a result.
We get messages daily through social media how Larry changed their life with his teachings and training. It is truly amazing to hear all the stories! It makes my heart smile.
If you have a pic and a story about Larry please take a minute to share on this special day".
Jeff Roberti stated:
Larry Thompson:  the man, the myth, the Legend, changed my Life forever !!!I became his #1 Student and one of the all-time highest earners in the Network Marketing Profession in the World.
Thank you Larry I will be eternally Grateful.