Sergio Contreras From El Salvador Achieves Diamond Rank At Vida Divina
May 28, 2018
By Team Business For Home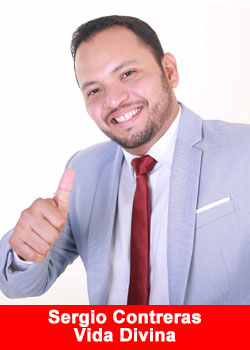 Vida Divina, a global direct marketer of nutritional and healthy lifestyle products, announced today that Sergio Contreras from El Salvador has obtained the rank of Diamond.
Two years after joining network marketing company Vida Divina, Sergio Contreras has reached Diamond rank with earnings of multiple 5 figures a month, and a network of 2,606 associates in 13 countries. Contreras holds the record of being Vida Divinas first Diamond in the regions of Central and South America.
Born in El Salvador, he had made a career as a businessman in several areas'"clothing, food, photography, event production'"before entering network marketing in 2008. All the things I had done before prepared me for success as a networker,' he says during a phone interview from Quito, Ecuador, where hes travelled to expand his business connections.
Sergio Contreras, 33, is still based in his hometown, San Salvador, where he found an enthusiastic response to his current enterprise. His business approach is consistent everywhere:
For me this is not about convincing, but about sharing a vision,' he says. I keep myself optimistic and I contact people with joy and totally convinced of the benefits I offer.'
Taking it easy
It was not always like that. Contreras did his first steps, ten years ago, in some kind of a rush. He used to jump' on people, and their reaction was not what he expected. Being invasive proved to be discouraging and ultimately a good way to lose prospects. Today, sharing the vision of a better future and financial independence gives him a steadier growth and, most importantly, a better retention.
Before joining Vida Divinas team in May 2016, Contreras worked in three different MLMs in El Salvador, but his current enterprise is the most successful of all, he states. Starting up was the most difficult part of the process, especially considering he joined Vida Divina at its conception. It took him some time reaching the numbers hes making now, but he always considered his success non-negotiable,' as he puts it. This is a career of persistence,' he says. Its difficult to defeat somebody who just wont give up.'
Sergio Contreras recalls the admiration other successful leaders inspired when he started as a networker. But he immediately identified what they had in common: perseverance and experience. If they can do it, I can do it too,' he repeated to himself.
That was my mindset when I decided to become a professional in this industry. Just like those leaders, I felt passionate about talking to people and conveying the vision of freedom.'
Lets get social
Contreras uses social media platforms to contact prospects, but what has worked best for him is his own YouTube channel, which is full of tutorials and has already 2,300 subscribers and counting. Currently, his network welcomes 15 to 20 new associates every day, a number that grows exponentially.
Vida Divina offers a great financial opportunity, but its products are also highly attractive and effective,' he says. Founded by renown businessman Armand Puyolt, Vida Divina offers a wide variety of nutritional products aimed to enhance the bodys performance.
People see results in the first days of consumption,' Contreras argues, and this makes them recommend the products eagerly from personal experience.'
One of the keys to Vida Divinas success is Mr. Puyolts method of five steps to cover the whole business process: keeping the product with you all the time, always looking for prospects, following up, classifying prospects as just consumers or business associates, and duplicating this process with teammates.
Sergio Contreras follows these guidelines verbatim. In two years, hes been in 12 of the 13 countries where hes currently doing business: El Salvador, Guatemala, Honduras, Costa Rica, Panama, Colombia, Dominican Republic, Ecuador, Peru, Paraguay, Nicaragua, and Bolivia. United States would complete his tours, and in the meantime, he keeps exploring new markets, such as Mexico, where he plans to travel in June. Next step: Europe. A lot of people in my network love looking for opportunities abroad,' he explains.
They love exploring different cultures and facing that kind of test.'
This business takes a lot of effort,' he says. but as an entrepreneur I always expect to find challenges. At the end, I find a way to make things happen, and I realize it's all worth it.'
His advice for new networkers: See this business as an opportunity to give people a better life. When you understand this business goes beyond money, you get the satisfaction of helping others, and that makes the financial rewards you get even more meaningful.'
About Vida Divina LLC
Vida Divina®had one of the most Successful Launches in history, In less than a few years, Vida Divina has grown exponentially. The company has reached more than 32 countries and built up an empire of office buildings all around the world and its own manufacturing facilities.
Vida Divina®Recently has been honored as one of the
Founded by Network Marketing Legend Armand Puyolt, has been in the Top Network Marketing Earners ranks for over 25 years as a distributor, and has been selected by Business for Homeas one of the ambassadors of the network marketing industry. Vida Divina offers a full line of health products, cosmetics, energy drinks, weight loss enhancers, chemical-free baby foods, among other products designed to enhance the human bodys abilities to cope with the stress of modern world and lack of nutrients.
As a debt-free company, Vida Divina was created like an Ark, to carry as many people to success as possible, and giving them an opportunity to change their future forever. For more information please visit www.vidadivina.com.