Vincent Grondin '" A LEO Member With The Attitude To Achieve The Altitude
May 23, 2018
By Team Business For Home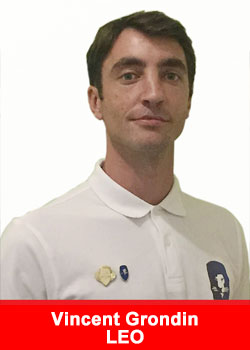 With a positive attitude, passion for his work and sheer perseverance, Vincent Grondin has achieved great success since joining Learning Enterprises Organisation Ltd (LEO), a global entrepreneurship training company, in June 2016.
In fact, in just this short time, this remarkable LEO Member has already risen to the distinguished rank of Executive. A strong believer in the legendary Zig Ziglars philosophy that '˜It is your attitude, not your aptitude, that determines your altitude, Vincent has built a booming business, and looks set to achieve even greater heights.
Based on the beautiful island of Réunion, located in the Indian Ocean, 175 kilometres south-west of Mauritius, Vincent Grondin is an inspirational LEO Member with a real zest for life, a strong work ethic and a determination to help those around him succeed. So, to find out more about this outstanding direct selling professional, we asked Vincent some searching questions.
You have achieved a great deal since joining LEO '" what is your recipe for success?
I have achieved Executive rank largely because of the work invested by my entire team. I am also passionate about my LEO business and have shared my belief in LEOs vision with my team. I always tell them that if I was able to make it, then you can do it as well. There is no reason why it cant happen, thats my motto.
Never lose sight of your goals and stay focused. I get my greatest satisfaction from being able to help my partners achieve their goals and to see them being rewarded for their efforts as well. There is a friendship that flourishes when we share the same passion, and the work involved is not a chore but a pleasure. Moving forward together is very important in order to build a group dynamic. As a result of my travels with the company, I have realised that everything is possible in life, and I stay focused on my goals in order to fulfil my dreams.
Why did you join LEO and what do you like most about the company?
I had been interested in direct selling for a while but I had never found a company that really met my expectations until the day I discovered LEO. It was love at first sight! The values that the company stands for, its transparency and its innovative projects all inspired me from the very beginning.
Our islands motto is '˜living together, and this is also true in LEO, as we share our success with those in our teams, who are from all walks of life, different cultures and religions '" there are no boundaries. The fact that LEO is registered with the UK Direct Selling Association (DSA) is also important because this reassures Members that they can develop their businesses safely, which is crucial. LEOs ecosystem of products has also met all my expectations '" especially its cryptocurrency, LEOcoin, which is a technological tour de force.
What motivates you to work hard to succeed in your LEO business?
When I face challenges, I go back to my goals and ask myself why I am doing this. The life cycle of a business is never a long and quiet river, only hard work and perseverance will pay off. No matter what you do in life, there will always be critics, thats what I have learned. You have to build a mindset made of steel and keep going no matter what people say. In addition, when I discovered LEOs compensation plan, I was astonished! its the first time I have seen a plan where you are paid commission on your sponsors, seven levels up! The rule is simple, the more we work the plan, the more we are rewarded. Its an excellent system that rewards us based on merit. LEOs plan is therefore, in my opinion, the best out there.
How does running your LEO business fit in with your family life?
Having the freedom to choose my own hours allows me to see my family more often than when I had my old job, running a pizza business. In fact, when I joined LEO, at first my relatives did not really understand the business concept and they would tell me I was wasting my time. Then, when they saw the progress I was making, they realised that this was a great opportunity and they completely support me now. In fact, many of them have also joined the company.
Do you have any advice to give to others who might want to start their own direct selling business?
Yes, you need to get all the training you can, accept help from others and be passionate about your work. I can certainly recommend the training provided by LEO. It is also very important to choose the people you will work with carefully '" you must get along. I was able to see quick results thanks, in part, to my sponsor and my upline, who helped train me and supported me in my business, and by surrounding myself with people with a similar vision, who were willing to help me.
This is crucial if you want to make a success of your company. I would also say that when you do things in life with passion and enthusiasm, no obstacle can get in the way of your goals. No matter what you do, do it with love and the rest will follow. I believe that, as Zig Ziglar said, '˜It is your attitude, not your aptitude, that determines your altitude.
About LEO
Learning Enterprises Organisation Ltd (LEO) is a global entrepreneurship training company which uses personal recommendation to introduce Members to its products and services. Established in 2012, LEO now has 300,000 Members in more than 140 countries.
LEO has a unique programme which helps people to LEARN, with the training products it provides, EARNat the same time, by marketing these products, and also has a selection of ownership award programmes that help Members achieve their dream to OWNa successful business. LEO provides full training and support for all its new Members, including a helpful '˜Getting Started Guide, which contains an invaluable system to follow to get their businesses off to the best start, referred to as the #LEOSYSTEM.
LEOs core products are designed to help people start their own business '" eLearning, Live Seminars and Technology. LEO believes that everything is moving to the mobile platform. In response, LEO has developed apps that replicate its Member Back Office system and Marketing collateral support.However, the LEO Ecosystem does not stop there, as it also includes a digital currency, LEOcoin, and a crowdfunding platform, LEOcrowd.