WGN 2.0 Starts With the Addition of Two Top Professionals To Join The Executive Management Team
May 28, 2018
By Team Business For Home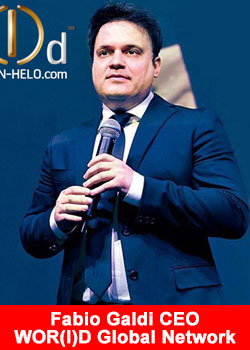 According to a World Global Network press release:
The WGN 2.0 Vision Statement is We inspire the change, to create freedom through our Life Sensing Technology.'
In order to transform this vision in concrete and measurable results, WGNs Founder and Chief Executive Officer, Fabio Galdi has announced his invitation to two leading professionals to become part of the Companys executive management team.
The addition of these two network marketing professionals reinforces an already skilled and talented group of seasoned executives.
Doug Robinson is the new Chief Sales and Marketing Officer.  Mr. Robinsons 30+ year career has been spent almost entirely in the healthcare sector.
He has held senior strategic healthcare consulting and practice management roles with PriceWaterhouseCoopers (PwC) and Deloitte Consulting, as well as senior operational roles within United Health Group.
More recently, over the course of the last 12 years, he has been CEO of three different companies, WorkWell Systems, Inc., LifeVantage Corporation and Mednua Corp.
Mr. Robinson is a seasoned executive who has sat on numerous public and private corporate Boards and has served on a number of different industry related Boards, including the Direct Selling Association in the US, and the World Federation Direct Selling Association, internationally.
He is currently the Chair of the Healthcare Committee for the CEO Connection.
To re-energize the Companys  vital area of Sales and Marketing initiatives,  WGN has hired another seasoned MLM executive, Mr. Dave Phelps who will work closely with Mr.  Robinson in this new venture for WGN.
Mr. Robinson and Mr. Phelps now join with the Companys CEO, Mr. Galdi and Alessandro Senatore, the Companys Co-founder and Chief Operating Officer in a completely unified team to lead WGNs continued growth and momentum.
Mr. Phelps has a vast background in the network marketing industry covering the last quarter century. He has had direct involvement in every facet of network marketing operations including international expansion, leading sales and marketing campaigns and strategies, leadership development mentoring, and every area of distributor-facing responsibilities.
His talents and skills in working hand-in-hand and heart-to-heart with every level of the distributor family, from the brand new team member to seasoned and globally influential leaders has prepared him for his new role in helping to develop the worldwide presence of WGN. Mr. Phelps stands for the principle that all things can be accomplished together when working as a team.
Mr. Robinson and Mr. Phelps will implement, coordinate and execute a new plan and several new projects, which will usher in the second wave of massive momentum for this uniquely positioned company. World leaders and distributors are excited and confident that this new executive management team will add even more value and creativity to this innovative company.
About World Global Network
With its headquarters in Singapore and its US office in Miami, Florida, and Provo, Utah, USA, World Global Network stands apart as a fast-growing company and a leader in the Network Marketing Industry. In its 10 offices distributed across the globe, WGN employs the brightest minds, the best professionals and motivated personnel to drive its business and create sustainable and valuable opportunities for its distributors worldwide.
Using innovative products and a proven, direct selling business model, Word Global Network helps its distributors around the world to transform their lives, and their familys livelihoods. For more information please visit www.worldgn.com.