WorldVentures Holdings Welcomes Paul Jenkins As CTO
May 30, 2018
By Team Business For Home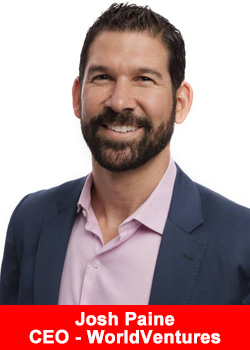 WorldVentures Holdings LLC, parent company of the travel industrys direct-sales leader WorldVenturesâ"¢, recently welcomed Paul Jenkins as Chief Technology Officer (CTO).
Day-to-day, Jenkins will guide the strategic technology needs of the company. I look forward to shaping and executing the technology strategy at WorldVentures, joining an outstanding culture with a great team, and to once again be working alongside CEO Josh Paine,' Jenkins said.
My focus will be to turn obstacles into opportunities and help WorldVentures deliver world-class technological innovation to our Independent Representatives and DreamTrips Members.'
Jenkins is a hands-on technology executive with a proven history of building teams; delivering high-quality products and services; and increasing company revenue, valuations and EBITDA (earnings before interest, taxes, depreciation and amortization).
Hes progressed through the ranks of the engineering and software development industry since earning a Bachelor of Science in electrical engineering from Georgia Tech, and has served in a variety of C-level roles, including Chief Executive Officer (CEO), Chief Operating Officer (COO), President, Chief Technology Officer and Chief Information Officer (CIO).
Before accepting his new position, Jenkins assisted WorkRecords, Inc. with the modernization of its infrastructure and SaaS (software as a service) implementation of its program offerings.
He also helped Pickup, Inc. with technology platform selection and development using Amazon Web Services. Additionally, Jenkins served as CTO for One Technologies and CheapCaribbean.com, and he has held the title of CEO and COO with other software and technology companies.
Along with his impressive technological depth and propensity toward action, Jenkins outstanding leadership skills and extensive experience will make him a welcome addition to the WorldVentures executive team.
One of my key responsibilities as CEO is to ensure we have leaders who can make a significant and immediate impact to our business as we work to better serve our Representatives and DreamTrips Members,'
said WorldVentures Chief Executive Officer Josh Paine.
Paul is an exceptional servant leader that Ive been in the trenches with, that Ive made a di?erence with, and I look forward to seeing how he will help guide the way to our continued success and future achievements.'
About WorldVentures Holdings
Headquartered in Plano, Texas, WorldVentures Holdings LLC is the privately held parent company of a diverse family of lifestyle brands, including DreamTripsâ"¢ and WorldVentures.
The companys mission is to create more fun, freedom and fulfillment in peoples lives through great life experiences, financial opportunity, personal development and contribution. The companys products and services offer a spectrum of innovative solutions to empower generations and support the potential and promise of our global community.
For more information, please visit dreamtrips.com and worldventures.com.