ALIVE Foundation of AIM Global Turns 10: A Decade of Compassion
June 10, 2018
By Team Business For Home
Social-responsibility is often neglected when one is at the top of its game.
Alliance In Motion Global (AIM Global) is one of the companies in the MLM direct-selling industry that is fully committed and dedicated on giving back to society.'  AIM Globals charitable arm ALIVE Foundation, has devoted itself on delivering its promise to help the less fortunate.
Last May 17, 2018, AIM Global kicked-off its four-day 12th anniversary celebration at the Pasig Sports Complex, Pasig City, Philippines with an outreach program that highlighted a bloodletting activity in partnership with Philippine Red Cross that produced 135 bags of blood donations, a kiddie party for 100 children with special needs from CBR-Smile Payatas and distribution of goods and school supplies that benefitted more than 1,500 families and 500 kids.
This admirable charity event was spearheaded by its Chairperson Dr. Connie Cabantog and the Board of Directors, Visionary President & Chief Executive Officer Dr. Ed Cabantog, Chief Marketing Officer Raymond John' Asperin and Chief Finance Officer Francis Miguel. AIM Globals partners from Natures Way, NaturaLife Asia and Weider Global Nutrition together with top leaders and international delegates volunteered their time and efforts to help with all of the activities at the outreach program.
Since its inception in 2008, ALIVE Foundation has assisted thousands of families and has spread its wings to several countries in Africa.
In Lagos, Nigeria, the foundation has distributed school supplies, bags of nutritional food, rice and toys to 1,000 primary and secondary students from Tokunbu Ali Primary & Secondary School on September 21, 2015 and Opebi Primary School on October 12, 2016.
 Two more outreach programs were done at the Saint Paul Bulega Primary School in Entebbe, Uganda where goods, clothes, school supplies and school shoes were given away on October 24, 2016 and November 28, 2017 to 500 primary students and 750 primary students, respectively.
The foundation also actively partakes in pro-life missions with non-government organizations, Philippine National Red Cross and Operation Smile. It is ALIVE Foundations enduring mission to make a positive impact on the lives of many people.
In 2014, AIM Global partnered with Operation Smile Philippines, an international nonprofit medical service organization founded by Dr. William '˜Bill Magee, Jr. and his wife, Kathleen '˜Kathy Magee, to sponsor surgeries for 300 cleft patients.
Led by Operation Smiles founders CEO Dr. Bill Magee and President Kathy Magee, the first medical mission was held in Isabela United Medical Center in Cauayan, Isabela from February 14 to 21, 2015. The goal was to operate on 150 cleft patients but out of the 168 patients that were screened, only 127 qualified. Carrying out the mission was a dedicated team of international volunteers  comprised of plastic surgeons, anesthesiologists, pediatric intensivists, pediatricians, dentists, nurses, speech pathologists, biomedical technicians, patient imaging technician, medical record specialists, clinical coordinators and mission coordinators.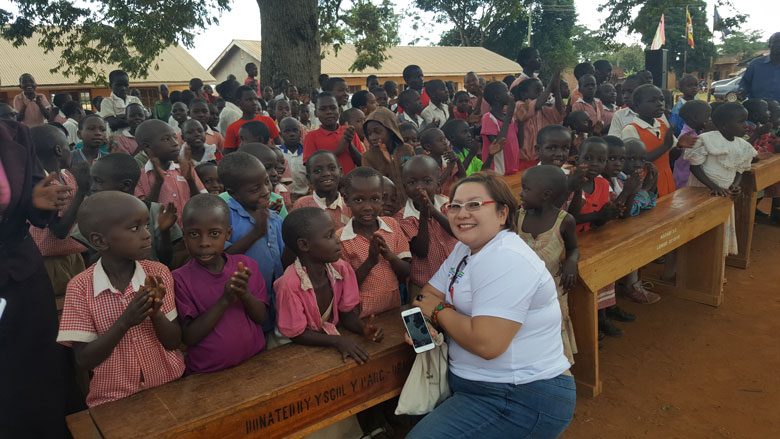 A mini-mission was similarly conducted in 2015, from March 12 to 14, to make up for the shortfall in the Isabela mission. The team screened 27 cleft patients and operated on 19 patients at the cleft care center of Operation Smile in Sta. Ana Hospital, Manila.
Both medical missions were participated by Operations Smile founders, AIM Globals Board of Directors, ALIVE Foundations Chairperson and top leaders.
AIM Globals international partners are staunch and generous supporters of ALIVE Foundation.  Natures Way and Naturalife Asia made a check donation worth USD 80,000 while Weider Global Nutrition donated USD 25,000 at 12thanniversary grand celebration of AIM Global at the Philippine Arena in Sta. Maria, Bulacan on May 20, 2018.
Recognizing the vital role and impact of social responsibility, AIM Global through its foundation vows to continue its thrust to serve needy communities with compassion for many years to come.
ABOUT AIM GLOBAL
Established in 2006, Alliance In Motion Global, Inc.  (AIM GLOBAL) is the leading direct sales network marketing company in the Philippines. The company markets and distributes top of the line Nutraceutical supplements, weight loss wellness products, personal care & skincare products, premium beverages and lifestyle products.
The company is a proud member of MLMIA (Multi-Level Marketing International Association) in USA, founding member of Direct Selling Association in Pakistan (DSAP) and Direct Selling Education Institute (DSEI) of Dubai, UAE.
AIM Global has 130 business center offices in the Philippines and has global offices in 18 countries namely Hong Kong, Singapore, Taiwan, Brunei, Papua New Guinea, UAE, Kuwait, Pakistan, Hawaii, Nigeria, Ghana, Kenya, Uganda, Togo, Ivory Coast, Cameroon and Tanzania.
AIM Global is categorized as +AAA' opportunity and Top 100 Solid MLM Direct Sales Company 2018, Top 25 Momentum Direct Selling Companies 2018, Founder/Director Dr. Ed Cabantog as one of the Ambassadors/Hall of Famer by Business For Home.