An Ecuadorian-American Dream: TLC National Director Jorge Rodas
June 9, 2018
By Nicole Dunkley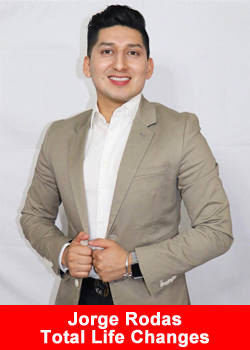 After 13 years in the United States, Ecuadorian immigrant Jorge Rodas still doesnt have perfect English. Making it in America has been a challenge, as its been for so many new Americans. I was an 11-year-old when I moved to New York City with my parents,' Rodas says. At the beginning looking for the American Dream was very hard. Language barrier, no friends, everything was new for me.'
Rodas was forced to work at an early age to help the family make ends meet, a hard-way education he thanks his father for. But working at a restaurant earning $400 per week wasnt enough to finance his college education as an architect. At 23, he was ready to take a chance on striking his own path as an entrepreneur. Thats when the Total Life Changes opportunity presented itself.
I learned about TLC and how it works through a conference call with Ambassador Ana Cantera,' Rodas recalls. Looking at her results and seeing everything she was doing in the Spanish-speaking community was why I said Yes to Total Life Changes. I knew by instinct that having the right leadership is key in network marketing.'
Although he had never made much more than the minimum wage, Rodas says he knew he was going to be a six-figure earner because of the activity and effort he put into his first 48 hours. He claims to have achieved this goal in less than a year-and-a-half.
When I start something Im always thinking of the bigger picture, and the bigger picture for me since day one has been helping people around the world by providing them a great health product. I want to change peoples mentality by teaching them that they can achieve anything they want in life.'
Rodas says he has been drinking plenty of Iaso tea as hes continued to build his team, which now includes over 3,000 people. He was also instrumental in opening up TLCs distribution in West Africa.
"TLCs culture is perfect for me. It is like a family. We help each other here. It doesnt matter where youre from. TLC has it all, from the system to the leadership. We have the best product, the best compensation plan and global reach. The reason we are attracting millions of people is because of how simply we do business here. Its amazing how easily beginners can create a part-time income.'
Although his journey from Ecuador to the United States was already further than many people will travel in their lives, Jorge Rodas feels his trip is only beginning. My parents are the reason I work hard. By the time I am 27 I will retire them. Theyve done so much for me to give me a better life, and this is a way for me to pay them all back and leave a legacy for my own kids.'
About Total Life Changes
Total Life Changes offers a diverse product portfolio of health, wellness and beauty products. President and Tea Executive Officer Jack Fallon created TLC over 16 years ago with a single product: NutraBurst®. Since that time, TLC has continued to develop the Iaso® brand of products to include a diverse and attractive product portfolio matched with a hybrid binary compensation plan that allows IBOs of TLC to be rewarded quickly for introducing new customers to our products and business opportunity. Find out why so many are saying, It really is different over here.'