Angel Flores From Puerto Rico Achieves Diamond Rank At Vida Divina
June 7, 2018
By Team Business For Home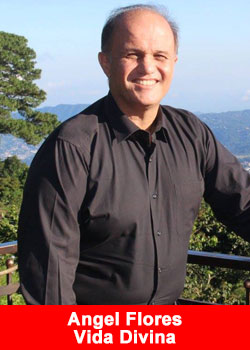 Vida Divina, a global direct marketer of nutritional and healthy lifestyle products, announced today that Angel Flores from Puerto Rico  has obtained the rank of Diamond.
Entrepreneur Angel Flores reached Diamond rank at rising company Vida Divina. Only this year, his organization recorded profits over 6 figures with a network of more than 50,000 partners in Peru, Mexico, Colombia, Costa Rica, Panama, El Salvador, United States, Puerto Rico, and the Dominican Republic.
Living in Puerto Rico, Flores was born in Puerto Rico and began his journey as a networker in 2000. After going through the tragic event of his wifes death, he looked for additional income to keep up with his responsibilities as the single father of a 6-year-old girl. So, he started a part-time business with Travel One, where he learned the basics of multilevel marketing.
 Flores worked as a store manager in Puerto Rico. As his job as a networker became really profitable, he decided to quit his job in 2012 to be a full-time multilevel professional. Now, he understands he made the right decision.
Who would have thought? All those experiences prepared me for what Im doing now,'
says Angel, 52. He started with Vida Divina in 2016, when the company started operating. Founded in Los Angeles, California, by Armand Puyolt, one the most successful businesspeople in network marketing nowadays, Vida Divina experienced a steadfast growth in more than 32 countries in the world.
 Angel Flores organization recorded a similar progress. Only in one months, Flores reached two ranks '"Sapphire and his current Diamond status. However, things were not always easy.
Building markets abroad was not easy, because things didnt work out as fast as in the United States,'
says Flores.
 An unlikely blessing 
But sometimes hardships worked unexpectedly in his favor. The devastating hurricane Maria, which hit Puerto Rico last year, opened an unlikely business opportunity for Flores. I started in Puerto Rico only in January. After the hurricane, we had no electricity and no communication, and I spent four months building an operation there,' he says. But I have to thank hurricane Maria, because it made people see that you need more than one only income to survive.'
 Probably, one of Angel Flores keys to success is his vision as a leader.
My goal is forming qualified leaders who master this business and even outperform me as a leader,'
he states. Curiously enough, he always uses plural nouns when talking about himself. I do that because my success is not only mine. I am where I am now because of an extremely dedicated team of people,' Flores adds.
 At this point, he says, his work is focused on reaching out and expanding his network as much as possible. I made the money I wanted to do, so now I try to concentrate my efforts on helping people,' says Angel. I already made the money I needed to make. I am debt-free,' he declares.
 For him, there are not secrets to financial success. Its all about persistence and dedication,' he says and modestly adds, I am not a genius, nor a magician '"Im like everybody else, I just never gave up. I believe in what I do, I believe in my company, and I believe all I do is possible.'
 About Vida Divina LLC
Vida Divina had one of the most Successful Launches in history, In less than a few years, Vida Divina has grown exponentially. The company has reached more than 32 countries and built up an empire of office buildings all around the world and its own manufacturing facilities.
Vida Divina®Recently has been honored as:
One of the 100 Solid Top MLM Companies For 2018.
Rated AAA+ Network Marketing Opportunity buy Business For Home
Founded by Network Marketing Legend Armand Puyolt, has been in the Top Network Marketing Earners ranks for over 25 years as a distributor, and has been selected by Business for Homeas one of the ambassadors of the network marketing industry.
Vida Divina offers a full line of health products, cosmetics, energy drinks, weight loss enhancers, chemical-free baby foods, among other products designed to enhance the human bodys abilities to cope with the stress of modern world and lack of nutrients.
As a debt-free company, Vida Divina was created like an Ark, to carry as many people to success as possible, and giving them an opportunity to change their future forever. For more information please visit www.vidadivina.com.